In my work as an art consultant curating art programs for high-end hotels, my clients are interior designers who have worked for months selecting everything for a room, from fixtures to furnishings, before the topic of artwork is ever mentioned. OK, wait. To be completely fair, the designer had selected a style of artwork early in the design process, but the actual works of art aren't selected until the final phase of the project.
This is a world in which art is very much like an accessory that makes a great outfit pop into a WOW outfit. Not considered an afterthought, the artwork is indeed an integral part of the room, it has an integrity of its own, yet it is selected after the overall interior has been established. On rare occasions I've seen a hotel space designed around a piece of artwork or seen the art inspire the interior design, but this is not the norm.
My guess is the order mentioned above (first interior, then artwork) is how most of us live. Our homes are already furnished with pieces we either want to keep forever or need to replace eventually, the walls are painted and occasionally re-painted, and the collecting of original artwork follows sometime after we realize that the posters we've had since college just aren't cutting it.
photo: borman818, Fort Lewis College
Whatever the reason, once you've decided it's time to incorporate original artwork into your daily life and living space, start with the art.
You have already established your style at home, so get out there and shop for art for art's sake. Go to galleries, shop on line, look around and get exposed to art. The more you see, the better. When you see something you like it will stand out. But I beg you, do not select artwork just to match your furnishings or your walls. That would be starting with the furniture. Let's face it, people move from house to house, furniture gets moved around, and wall colors change. Start with the art and buy what you love.
If you start with the furniture and buy art to match or even coordinate, you will probably tire of the combination in a short time. This equates to buying disposable artwork, and we don't want that! If you want to invest time and money into original artwork, and I suggest you do, buy artwork you love, don't try to match the couch. You have a sense of style already and your tastes will draw you to certain artwork. If you trust your visual instincts, your furnishings and your artwork will naturally come together in the end.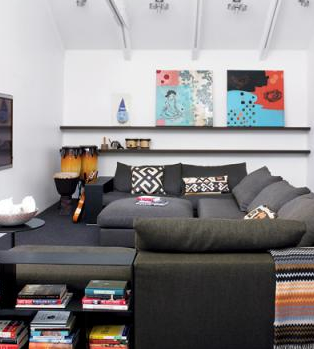 photo: John Reed Forsman
I promise you will always find a place in your home for art you love and you will enjoy it for a long, long time. Isn't that more satisfying than knowing you've matched the sofa?