Kick boxing champion to abstract artist? Zatista's contributing writer Joe Conway sat down with L.A. based artist Kevin Brewerton to discuss his original, and very physical path to the canvas.

I've read that you grew up "hating art," so how did you move from the athletic world into the creative world as an artist and appreciator of art?
I guess I didn't really hate it, I just didn't understand it. I grew up in a coal-mining town in northern England, I was from a working class family and we were always taught that art was for rich people.
I moved to London when I was 17 and while I didn't understand art at the time, I always found myself at the Tate Gallery or in some other gallery. I wound up coming out of boxing gyms and going into art galleries, I guess I was always drawn to art.
I think though I was always an artist. I expressed myself as an artist in the athletic world in the boxing ring — on a different kind of canvas. Expressing myself is what I've always been after. I think the expression is the impetus and the drive.
Your work either flirts with abstraction or embraces it outwardly. It's interesting that you went from someone who felt alienated by art to someone who embraced abstraction, because that's usually what many people find the most daunting.
I'm drawn to abstraction because I find it to be very spiritual. All the great artists talk about art being a mirror of your deepest feelings; your personal feelings, and I think that abstract art really is.
I look at a piece of art I like from Franz Klein — he lived in NY and he did lots of abstracts in black and white. There's this tension between the black and white, and they look very simple; they're simply painted. But within it, within the framework it's quite easy to see someone who is holding on.
When I attack a canvas, I might have an image of what I want to go after, and sometimes I have no idea. Abstraction is immediate, spontaneous, provocative. I'll just start; it's a subconscious thing that's working and you're working from your deepest level of unconscious and putting your soul on that canvas. It's about exploration, it's about discovery, it's about learning about yourself, about revealing yourself.
You have said that creating art takes just as much if not more courage than stepping into the ring. Was starting to make art a matter of courage for you?
One of the first things I learned from my mentor, Milton Katselas, is that if you're afraid of something, then you have to do it. There's no place for fear if you want to be an artist. Being a five-time world kickboxing champion I figured, "I know what fear is, I can go in the ring with anyone."
To be a great fighter, you have to have heart: with art you reveal your heart. With fighting, it's all about protecting, covering up and putting a wall around yourself so that no one can get to you. When I became an artist I had to relearn everything: I had to take the walls down and reveal myself. It was much harder than putting walls up to protect myself.
You're kind of a success story in terms of your relationship with art, going from feeling alienated by it to becoming an artist and appreciator. Do you have any recommendations for people who are learning to approach art, maybe by looking at your art?
I think the best way to approach art is to get a canvas or a sketch pad, some paints or a pencil and just start. Once you start the process, it's infectious. You don't have to be skilled, good at it, or have years of training to immediately benefit from it. It's a part of our inherent, creative spirit and when you connect with it, it'll lead you right into it. Just start.
There's an obvious connection to your athletic past in the figures that you paint, does your relationship with sport have any other bearing on your work today?
The semi-figurative boxers I paint, they're all part of me. I ended up doing a series of them and I've been approaching them from different perspectives when I paint. Sometimes I'm reminded of different fighters who I've faced, but usually they're coming from some sort of stage or phase that's happening inside of me. In some respect, they're all a kind of self-portrait.
Are you still training?  Has you art affected your athleticism?
I do still train. I think about it as an expression, the way I move when I'm kickboxing. Martial art is, after all, art. My mentor Milton Katselas talked about what we possess as artists and how powerful art is. He talked about the world of physical strength, athleticism—about guys who are unable to break in or find it more difficult to break into themselves—it goes back to courage.
It's the courage to be vulnerable, to have vulnerability in your art which makes it more human. What he said is that art is about humanity, it's about life. I think that's what changed me when I started "becoming" an artist. I mean, what's bigger than life? Why not create art? It's in every aspect of our lives.
Do you know of other artists these days who blur the line between athleticism and art?
I don't. I think I may have read about a boxer in the 1920's who was also a painter.
Who are your greatest inspirations artistically?
Motherwell: For sheer scale and depth.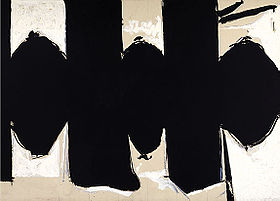 Pollock: Action painter—no beginning and no end point.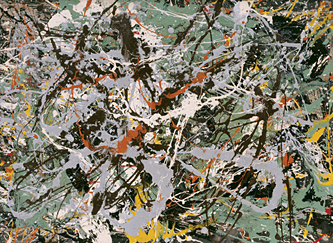 Yves Kline: Audacious. Spiritual. On Zatista I like Kim Curtis,
and I found Lisa Cacciopoli's work provocative.
Anything to add?
There is one more thing that I'd like to say, and that is that each painting has a life of its own. I often don't know what I'm doing or where I'm going until I get there. Not unlike stepping into a ring, the process requires faith.