Sea Glass and Sand and Skipping by Christine Frisbee
So you've finally found the perfect artwork for your home – you've searched for paintings to buy online, placed your order, and all that's left to do is unwrap your canvas and put up your new art!
Even if the piece you've chosen is already breathtaking, it's important to hang your art correctly so that it looks great in your home. Here are our tips for hanging your art like a pro!
But first – to frame or not to frame?
This is a question that comes up a lot – should I have my art framed? If you are buying art that is coming unframed, then the choice is really up to you. We think both options look great! If you are choosing to have your art framed, plan accordingly so that you can get it up on your wall sooner than later.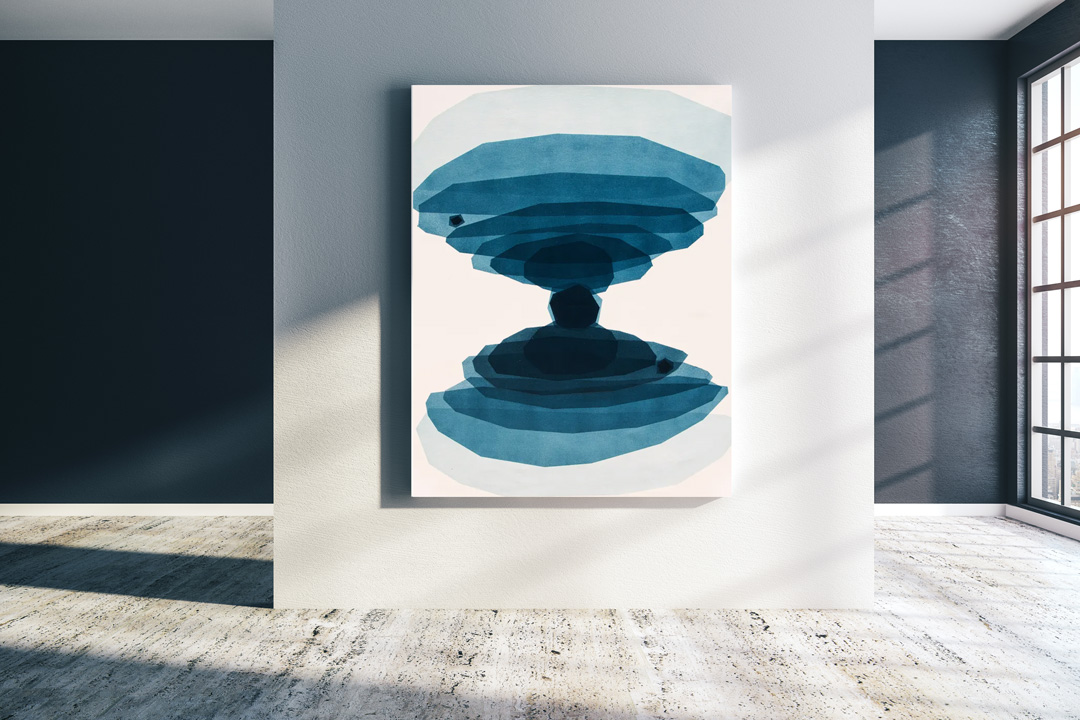 Shown above: Dimensions by Catia Goffinet
Centering your artwork
When hanging your art on the wall, you should always hang it by its center point. Vertically center the artwork in the area you are hanging it. Do your best to place the painting at an average eye level. That way, you can always admire your art with ease!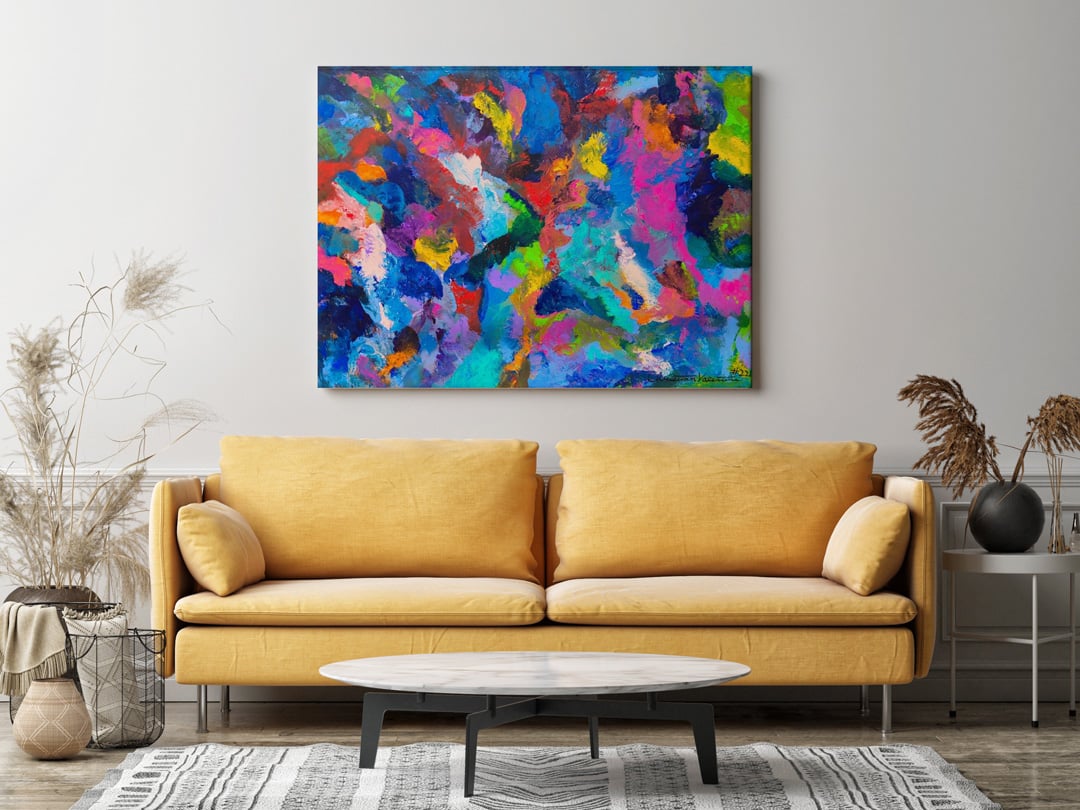 Shown above: The way flowers look in the sun by Christian Valentine
Hanging art relative to other objects in your home
We often hear from customers who are placing artwork in common places like above the fireplace, above the sofa or above a bed. Hanging art above furniture is a great way to anchor the art piece and add some interest to a room! There are certain ways to do this so that your new original painting or artwork looks its best.
In this case, the eye level rule may not necessarily apply, because you should be positioning your artwork relative to the object (for example, the fireplace mantle). Consider the space and the size of the items. A large painting above the bed might look great when it is positioned closer to the headboard, while a small painting would probably look better spaced further from the headboard.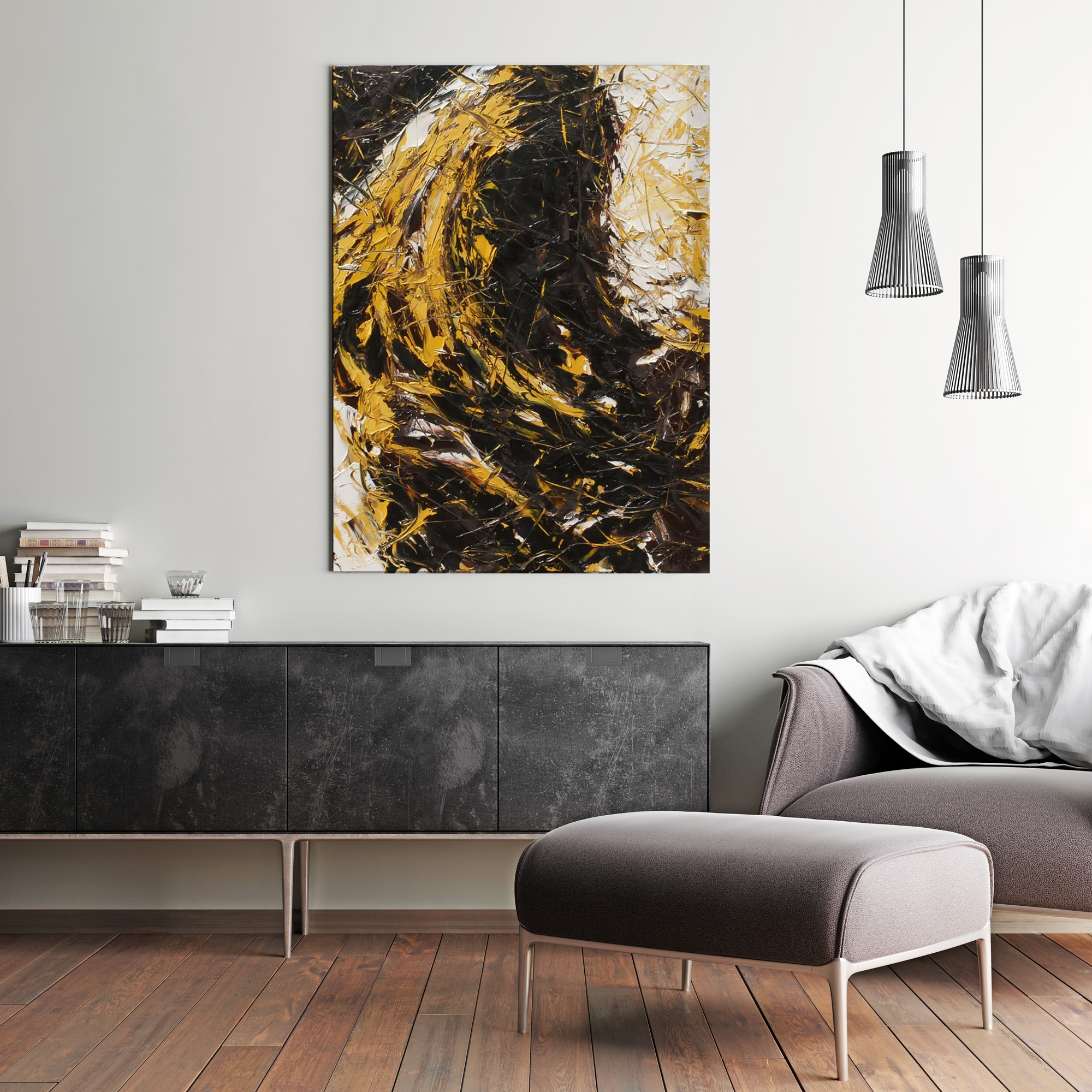 Shown above: SHADOW GIRL by Bill Stone
Which orientation should I choose?
When it comes to hanging art by your furniture, the same level of consideration goes for the orientation of your art. A vertical painting will look best over a more narrow object like a fireplace mantel, whereas we typically see horizontal paintings hung above a longer piece of furniture like a sofa. 
Did you know that you can search for art by orientation using Zatista's advanced search filters? You can easily find horizontal paintings or vertical paintings for your home, depending on your needs. 
Shown here – Top left to right: Flying my Kite by Karin Goeppert, Running Risk by Allan P Friedlander, Bottom left to right: paroxysm by Sandra Boskamp, Blossom Evolution XIX by Naoko Paluszak, mai001 by Catherine Lau
Hanging gallery walls
When you are creating a gallery wall, you'll want to follow similar rules to the above. The difference is that you should treat the multiple pieces of art as one grouping. You can use one artwork as a focal point and build your gallery around it. Look at the entirety of your gallery wall as one unit, and position it accordingly.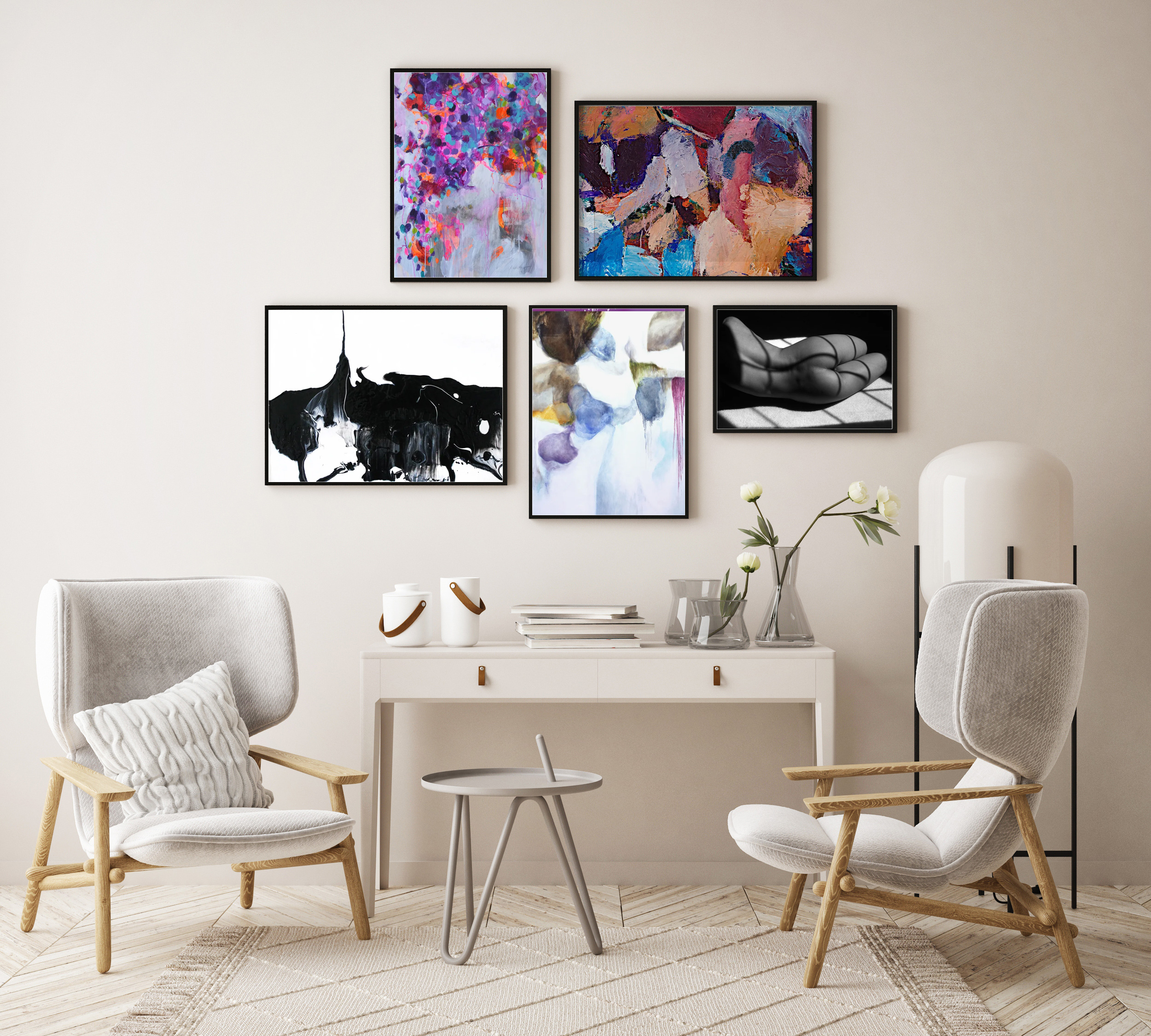 Shown here: Rocketman by Theresa Vandenberg Donche
Make the most of your new art
Whether you are an art collector or buying your first original painting online, it's easy to make the most of one-of-a-kind works when you can hang art like a pro! Check out the Zatista blog for more tips for showcasing art in your home or browse our curated collection to find the perfect piece today.