No Fog Today by Irene Raspollini
Portraiture is one of the oldest art forms. It began nearly 5000 years ago, when the only way to record someone's appearance was through drawn portraits. Portrait painting was originally common amongst rulers or people from the upper classes. However, over the years portraiture has become more widely spread and used amongst artists to show the inner power, virtue and beauty of a person through the artist's eyes. 
"The aim of Art is to present not the outward appearance of things, but their inner significance; for this, not the external manner and detail, constitutes true reality."

Aristotle
Portrait painting has had a very important role in the history of art because it gave artists the opportunity to explore an interest in the human subject and how it can be portrayed through art. 
Techniques
Portrait painting can take on a variety of forms these days. But when it first began, portraits were typically done using charcoal. Nowadays, artists also use oils, acrylic, watercolours, ink, pencils, pastels, and mixed media. 
The subject of the painting can be clothed or nude and set in a variety of backdrops or scenes. The subject might be indoors or outdoors, standing or seated. The technique used in a portrait painting can be decided on amongst the artists and subject, and is often fitting for the emotion the artist is trying to portray and evoke through the subject. 
While photorealism or realism are often present in portrait works, they can also take on a more abstract form.
Painting the face and body of a person has given artists the opportunity to have their own take and interest about another being. Over the many years, it has taken on a variety of directions and mediums. 
Our Picks
On Zatista, you'll find a wide variety of portrait paintings from talented artists around the world. Here are a few of our top picks!
Tired by Victor Tkachenko

Painting, Acrylic on Canvas 24 inch x 24 inch
"Tired, exhausted, fatigued, weary suggest a condition in which a large part of one's energy and vitality has been consumed."
Strange Offering by Christine Cousineau

Painting, Oil on Canvas 60 inch x 48 inch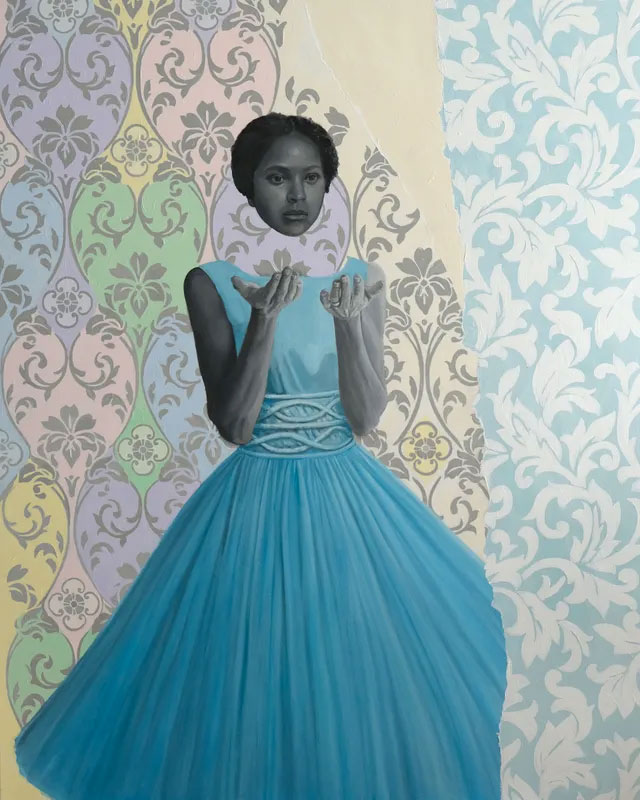 "Each painting is composed of fragments of photographs from a variety of sources which are compiled in photoshop to form an entirely new image, then painted on canvas."
Cuidador de gato #2 by Dimitris Pavlopoulos

Painting, Acrylic on Canvas 59.1 inch x 39.3 inch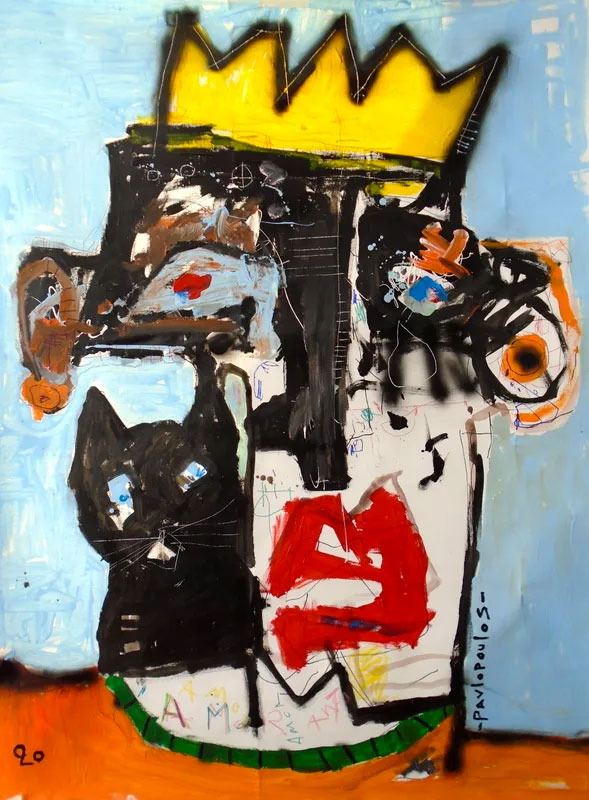 "The energy that is not visible to the human senses but you feel it and you realize it spontaneously is the natural consequence the fantastic faces shouting from the depths of my soul then I with the brushes and the paints I create on the surface the face or the body I give material substance and a quiet voice."
Brothers. By Igor Shulman

Painting, Oil on Canvas 39.4 inch x 39.4 inch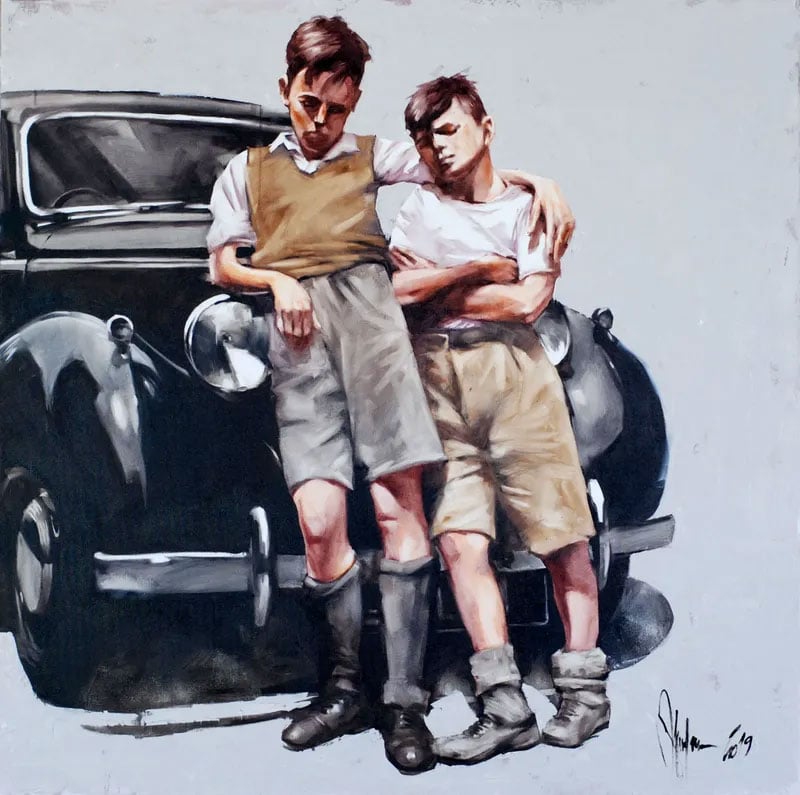 "At this age, friends can be, and often are, closer than brothers. Or they think so. It seems to them that in their life there has never been such a close understanding of a person. But very soon their friendship will end."
Gestation by Lu Mourelle

Painting, Acrylic on Canvas 47.2 inch x 39.4 inch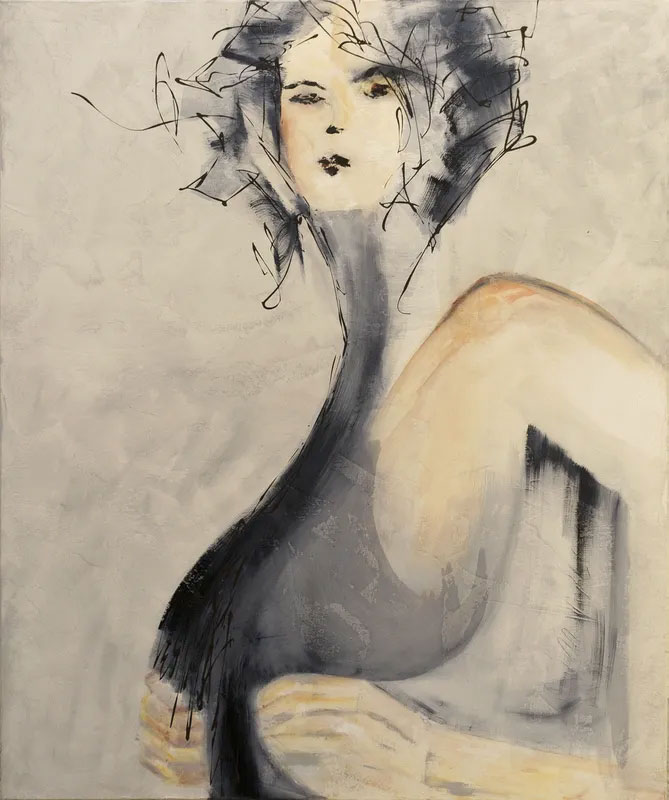 "The artist intends to highlight feelings and moods connected to everyday life. They are fleeting situations that can happen during the day, during a conversation, or because of some event in modern life."
Tropical Moon by Naoko Paluszak

Painting, Oil on Canvas 36 inch x 36 inch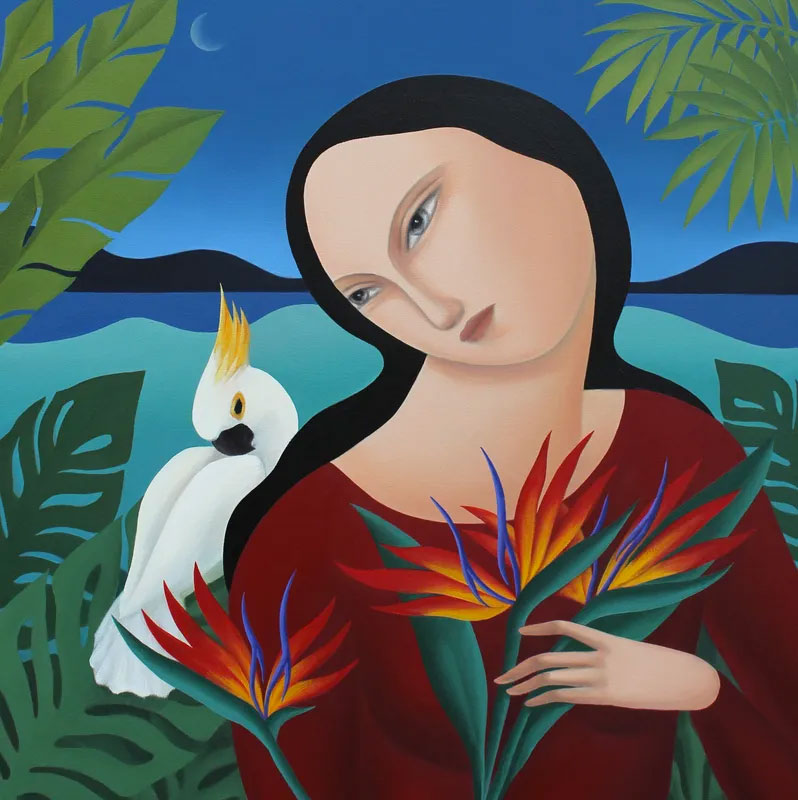 "This is "Tropical Moon" original oil painting on canvas. This large oil painting has many layers of paints to achieve the depth and the richness of the color."
–
Interested in a portrait piece for your home? Explore our curated gallery of figures and portraits or contact a Zatista art advisor to find the perfect piece for you. Our team would be happy to help you find your next piece of original art!