Every time I interview someone, the greatest challenge lies in condensing a fascinating conversation into a comprehensible and thoroughly readable piece of text. That is especially the case when you're interviewing someone as passionate and talented as Ryan Korban.
In particular, it never fails to amaze me how articulate experts like Ryan can be about the finer points of their trade. They always seem to be able to express the little truths, especially in the realm of art, that elude me for years at a time.
When I asked Ryan about his unique approach to designing small spaces, his response really struck a chord–"I think that for a small space the trick with art is to go really big. In small spaces, and I work with them so much, going floor-to-ceiling really creates a lot of drama."
Creating drama in your home? I always thought that's what you're not supposed to do! Of course, as I transcribed the interview I realized what he was talking about. Aesthetically, drama is what tension is musically. It's another way of saying  provokes emotion, and is a means of making people connect with the design/art/music.
Having achieved an understanding of what Ryan was talking about, I thought immediately of my friend Joseph's home. He's the one guy I know who is a master of creating a drama-rich living space that is a study in contrasts.
Joseph owns a home a few blocks from the beach in his hometown on Florida's east coast. We became friends while living in San Francisco, where he had condensed a few of his most favorite belongings into a small one-bedroom apartment. We each parted ways with the city at about the same time and a year later we reconnected in Florida. I had heard stories about his house back east, but I had no idea what I was in for. The man generally has good taste, but his home is on a whole other level.
The structure itself is a modest, vaguely mid-century one-story Florida stucco home. Inside, though, he has created a cool, refined yet comfortable environment for himself and his friends. His color palate runs from clean whites to beige to earthy browns and golden ochres. From his classic teak hutches to his blond, rich grained tables and chairs, everything blends together, soothing the eyes and mind.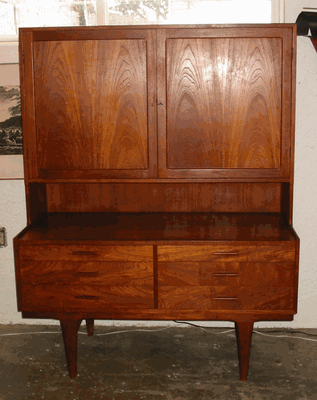 Faded, well-loved black and white photos of family and familiar Florida beach scenes line the walls, lending a timeless feel to the space. It feels like you could walk out the front door and into 1963.
But here and there a blast of color will strike your eye. Joseph is an expert surfer and his taste runs towards distinctive boards with vibrant resin tints. A deeper than the sea, brighter than a Blue Jay "fish" might stand beside the couch or be tucked in a nook.
And amongst all the impeccable antiques and subtle nuances you're sure to find glaring pieces of kitsch that get to real heart of Joseph's style. In his mind, every man should have one old, bad schooner painting. That and a well-worn pair of pointy-toed boots.
As Ryan Korban says, it's about creating drama, about toeing the line but daring to step off of it, and about rocking your own true style with panache.