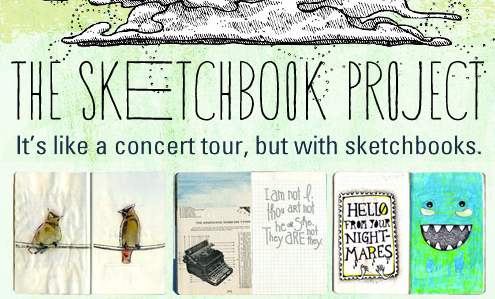 Have you heard of it? If not, you've got to check it out. It's a group art project and anyone can participate.  You don't have to be an artist to enter, all types of people are part of this project. To receive a sketchbook, pay $25, choose a theme from a list of 24 intriguing possibilities including: The View From Up Here, Face in the Crowd, Things That Changed Other Things, or opt for the project to choose a theme for you.
Enter by October 31, 2010, return your completed sketchbook by January 15, 2011. Tour begins March 2011.
The Art House Co-op says, "Thousands of sketchbooks will be exhibited at galleries and museums as they make their way on tour across the country. After the tour, all sketchbooks will enter into the permanent collection of The Brooklyn Art Library, where they will be barcoded and available for the public to view.
Once barcoded, artists will be able to track where on the tour their book is viewed and how many times it's pulled it from the shelf – we want to make sure you can stay connected with your sketchbook!"
How cool is that? Let's do it!