ELIZABETH BAUER
Owner, Elizabeth Bauer Design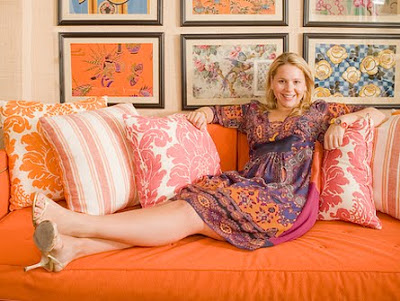 Elizabeth's personal style is best described as modern in a traditional silhouette. She often tries to incorporate pattern on pattern, color and texture and she loves home accessories in glass or Lucite. Similarly, when decorating for a client, she likes to mix and match pieces from different periods, and also stresses the importance of knowing how to mix price points. One of Elizabeth's design philosophies is to compliment everyday pieces with high end accessories. Elizabeth enjoys going to local flea markets to scout out great finds for her clients and now for her store, Elizabeth Bauer Design.
After years in the interior design industry, New York native and design aficionado, Elizabeth Bauer, took her dream of starting her own interior design business and brought it to life with the opening of her first store, Elizabeth Bauer Design. Filled with her favorite vintage finds from antique shops across the world, Elizabeth Bauer Design is a treasure trove for accessible and fun high-end furnishings and accessories for the home.
Where do you start when transforming a room: furniture, paint color, or art? Or somewhere else entirely?
I usually start with tear sheets from clients of what they like and don't like. Next I think about fabric, wallpaper or a rug that reminds me of the client's personality.
You're a believer in unique and one-of-a-kind items. Do you apply that to buying art as well?
Absolutely. Everyone can buy what I call 'gift shop art'. You don't want to do that. Spend time investigating until you find things you really like.
What was the first piece of art you bought?
It's over my sofa, a long French oil painting of Bastille Day. I bought it for almost nothing at one of Sotheby's auctions. It's one my favorite pieces. I picked the fabric on my sofa because of it.
What role should art play in an interior? How important is it?
It's very important. Art is like the clothes you wear. Art defines and finishes the space. It says so much about a person – where you've traveled and what your interests are.
You have a phenomenal eye for pattern and color. What is your approach to mixing these in the home?
It's about weight and scale. It's about the saturation of colors in a pattern and the scale of the pattern. Mix scale.
What's your advice on how to build an art collection?
Buy what you like!
Is it possible to have a great looking home, including art, on a small budget?
Yes! Good art doesn't have to be expensive. I like to buy original art. There is value, quality, and integrity in original art. There's a lot to choose from out there; we don't have to buy posters on crappy paper.
When you have a wide range of options in front of you like at a flea market, how do you decide what to buy?
You have to learn to trust your eye. It's hard to learn. I doubt myself all the time. Since I buy original items, if I don't buy something I love, then I regret it. But when you finally buy, then you've defined that moment and you know what you like. If you don't buy it and you keep thinking about it, go back and if it's there buy it. If it's not, then it's not meant to be.
You mix styles a lot. When you mix styles of art, how do you know when it works?
There aren't any rules. Buy what you like. 'Liking it' becomes the common thread and then it'll work with your other things.
What is your best advice for making a home accessible and fun?
I like using vintage pieces because they are so unique. Shiny lacquer finishes or glass is fun too. I like reflection.
What designers do you admire?
Tony Duquette, David Hicks, Albert Hadley, and Kelly Wearstler.
What do you like about using Zatista?
I love the Art Explorer. It will show you similar work based on your likes, and that's genius! It reminds me of Pandora Radio, to be able to do that with art is amazing!
Do I have to spend a lot of money to have good art?
Not at all! Cost doesn't matter. Good art is only defined by price if you let it.