ART 101: Art in Depth
Styles: Surrealism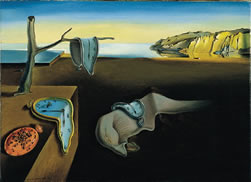 Beginning in the early 1920's, surrealism is a cultural movement that explored the realm of dreams and the unconscious mind through visual art, poetry, and motion pictures. Through their artistic expressions, surrealists sought to liberate an individual from all that was rational and customary in their daily life and culture (personal, social, and political), in order to liberate and embrace the peculiar imagination. Many painters did so by depicting realistic subjects, but juxtaposed objects and images in irrational ways. Artists were fascinated and influenced by the works of psychologists Sigmund Freud and Carl Jung.
The surrealists developed a variety of techniques such as automatic drawing that represents chance and a dictation of thought without control of the mind. In automatic drawing, the hand moves randomly across the paper where the subconscious takes over and allows the mind to be free. Other techniques include "Exquisite Corpse" where a piece of paper was folded in four and different artists contributed to the respective image, and frottage that transferred different textures onto the finished piece of work.
Artists painted with meticulous detail where they took recognizable scenes and objects out of their natural context in order to depict them in fanciful ways as in dreams. With a great interest in metamorphosis, artists were also fascinated by mythology because of its focus on nature and primitive forces. They believed that although ordinary expressions are important, their composition and arrangement must be open to the imagination.
Famous Surrealistic Artists:
Giorgio de Chirico
Salvador Dali
Max Ernst
Endre Rozsda
Robert Matta
Example of Surrealism: The Persistence of Memory, 1931 by Salvador Dali