ART 101: Art in Depth
Styles: IMPRESSIONISM (19th century)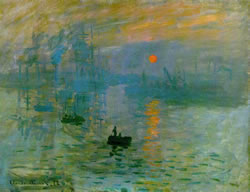 Impressionist artists broke the rules against traditional standards of painting that were primarily based on historical themes, and instead offered a fresh, new vision expressed through a given moment in the contemporary life around them. The impressionists specialized in landscape, informal portraits in a domestic setting, and still life. Instead of painting in the studio, artists ventured outdoors ("en plein air") to observe nature, the daily lives of people and the modern world of here and now. Impressionist artists were truly avant-garde with their ability to defy the norm and show people the true beauty in spontaneity, movement, light; and the power of vivid color and ordinary subject matter.
Characteristics of Impressionist paintings include short visible brushstrokes of bright, often unmixed colors—producing a loose or densely textured surface rather than a smooth one. To enhance the intensity of colors in their paintings, artists avoided black or earth colors and instead used complementary colors to depict shadows. Impressionists experimented with different perspectives and compositions, but primarily focused on emphasizing overall simplicity than details. Photography created a new medium for artists, giving them inspiration and a greater ability to capture the optical realities of the natural world. Japanese art prints (Japonism) also influenced impressionism with its unusual angles and composition.
Impressionism showed people that painting, or rather art ,can represent an expression of the moment or of an experience. Artists proved that art doesn't just have to capture a certain moment in history to be considered a masterpiece, but that it can capture the ephemeral aspects of a changing moment.
Famous Impressionistic Artists:
Pierre-Auguste Renoir
Mary Cassatt
Edgar Degas
Claude Monet
Example of Impressionism: Impression, Sunrise, 1872 oil on canvas by Claude Monet