ART 101: Art in Depth
Styles: MEDIEVAL AND GOHTIC ART (AD 300-1453)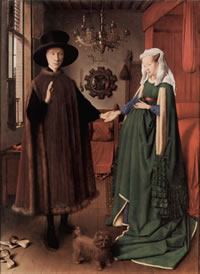 Medieval art represents over 1000 years of art history in Europe, the Middle East, and North Africa, primarily illustrating religious scenes from the bible. From the fourth to the early sixteenth century, medieval art encompassed major art movements and periods—from Early Christian art and the Dark Ages to Byzantine, Romanesque, and Gothic. Much of medieval art was optimistic, colorful, full of energy, and always intended to deliver a message of morality or teach a certain lesson.
The primary gothic art mediums were sculpture, panel painting, stained glass, fresco (paintings done on plaster on walls or ceilings) and illuminated manuscript (the addition of decoration to a manuscript). The gothic style also heavily influenced architectural design, and can truly be appreciated in the structure of fine cathedrals with exceptional innovations in the pointed archways, elaborate rib vaulting, and flying buttresses. With the introduction of the gothic style, cathedrals were now being built with thinner walls and mesmerizing stained glass windows replacing traditional mosaic decorations.
Gothic artists told a narrative story through their work—conveying both religious and secular subject matter. Gothic sculpture and paintings transformed from a solid and elongated style, to a spatial and naturalistic style filled with symbolism. The style showed the depiction of realistic figures in realistic space that were more animated in pose and facial expression—predominantly influenced by ancient Greek and Roman art.
Famous Medieval & Gothic Artists:
Robert Campin
Jan Van Eyck
Giovanni Cimabue
Example of Medieval Art: The Arnolfini Portrait, 1434 by Jan Van Eyck