ART 101: Art in Depth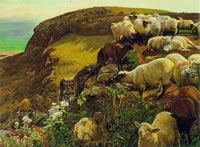 English art consists of art originating from the nation of England. It has evolved over the centuries and has adopted many different forms of art. Some of the earliest paintings in England were those of illuminated manuscripts (bright and detailed decorations that were added to prayer books), and focused on religious themes.
English art demonstrated the values of order, logic and proportion that were exhibited with neoclassical art. Elegant portraits and natural landscapes are two of the most popular expressions of English art. Some artists also expressed satirical scenes from ordinary life, while others were famous for their Greek and Roman inspired themes. By the 18th century, the English style had transformed into brighter, more detailed, and livelier pieces of art. By the end of the 20th century, artists were experimenting with unusual media such as dead sheep (Damien Hirst) and chocolate (Helen Chadwick).
Famous English Art Artists:
Thomas Gainsborough
William Holman Hunt
J.M.W. Turner
William Hogarth
Example of English Art: On English Coasts, 1852 by William Holman Hunt