ART 101: Art in Depth
Styles:
CONTEMPORARY (1944-PRESENT)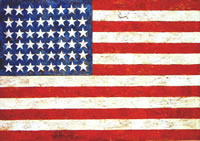 Depending on whom you speak with, Contemporary art is any work of art that has been produced since World War II to the present day or work created from the 1960's and 1970's to present day.
Contemporary art tends to be socially conscious art dealing with issues such as feminism, globalization, multiculturalism, bioengineering, and AIDS awareness.
Materials from acrylic to encaustic (a wax application), feathers, rusted steel and wool are considered supplies a contemporary artist might use to make a statement and express their individual creativity. Contemporary art includes an array of styles including abstract expressionism and pop art.
Famous Contemporary Artists:
Damien Hirst
Jasper Johns
William de Koonig
Example of Contemporary Art: Flag, 1955 by Jasper Johns