ART 101: Art in Depth
Also known as nonobjective art and nonrepresentational art, abstract art is a style in which the paintings are composed of designs, shapes or colors that do not look like any specific physical objects. It doesn't try to "look like" something, and instead it depends on color, form, and medium for its imagery rather than motifs drawn from observable reality.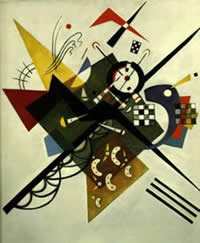 In art, we are typically used to looking at a representational painting that portrays a specific recognizable physical object or image—whether it is a basket of fruit on a table, or the face of a beautifully mysterious woman. With abstract art, the artist gives an individual the freedom to interpret the painting without focusing on a visual representation; but more on emotion, feeling, sound, or spiritual experience. It allows the individual to escape from reality, and transcend to another artistic realm free of the distractions of objects or images.
Famous Abstract Artists:
Fernand Léger
Jackson Pollock
Archile Gorky
Wassily Kandinsky
Franz Kline
Mark Rothko
Abstract Art Example: On White 2, 1923 by Wassily Kandinsky