Pop art is an art movement known for its vibrant colors and use of iconic imagery, such as popular celebrities or brands of household products. When most people think of pop art, they think of the famous Andy Warhol who is best known for his iconic pieces featuring celebrities like Marilyn Monroe or brand name products such as Campbell's Soup. Many famous pop art pieces are created in a mixed-media collage style, where iconic images are transposed onto bright, vivid backgrounds. 
Pop Art: A Bold and Bright Art Genre
Pop art first started in the US and the UK in the late 1950's and 1960's. When pop art broke onto the art scene, it challenged traditional art styles by incorporating elements of pop culture and popular mass-produced consumer goods — hence the name 'pop' art. Some famous pop art artists include Andy Warhol, Keith Haring and Roy Lichtenstein. Each of these artists used their craft as a commentary on society and its obsession with consumerism and celebrity, punctuating this with bright hues and vivid motifs.
Original Pop Art Paintings
Zatista's collection of original artworks and paintings for sale online includes many pop art pieces by artists around the world. We've compiled a selection of our favourite original pop art, each with their own take on what modern pop art means today. 
Inspired by Childhood Games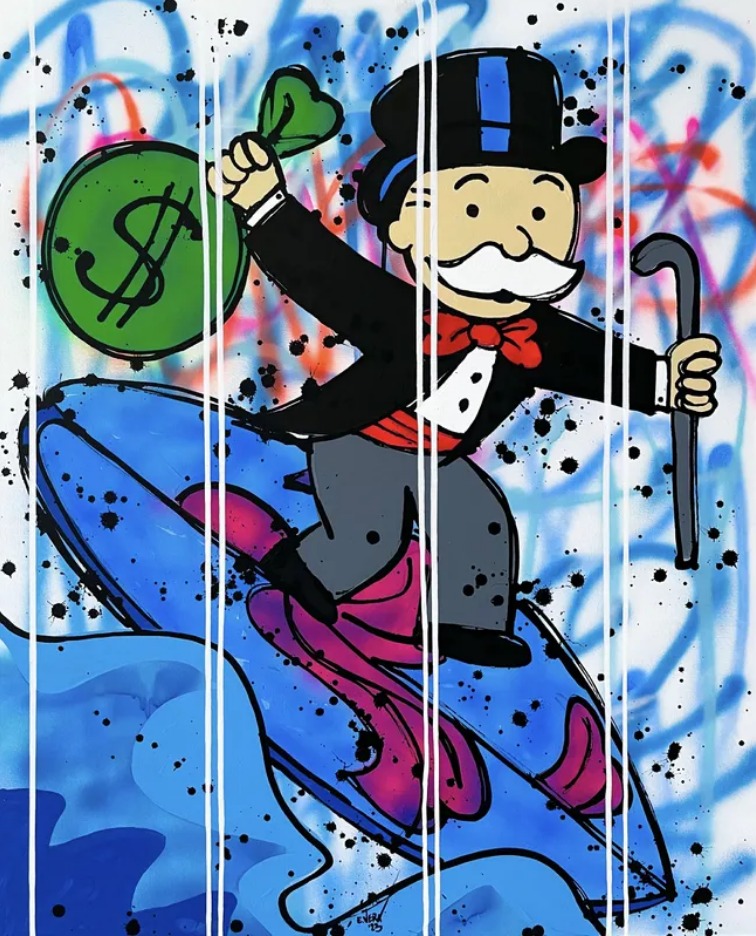 The Monopoly man makes a comeback in this fun ocean-inspired art piece. This pop art piece by Mexican artist Esteban Vera combines fun board game imagery with a spray-paint style background of blues. The artist shares his vision for the piece: "The use of spray paint adds a dynamic element to the pieces, emphasizing movement and energy. Overall, this series of works of art celebrates the joys of the seaside, capturing the essence of contemporary beach culture with a Pop Art twist."
Beachfront Bliss by Esteban Vera
Classic Pop Art Imagery
This piece is classic pop art at its best! Featuring the iconic Marilyn Monroe, this work echoes the use of this pop culture icon from the days of Andy Warhol. Artist Dane Shue speaks on his artistic process as a contemporary pop artist: "I create vibrant paintings and mixed media artworks using gestural painting and printmaking techniques. My work evokes nostalgia and happiness. Influences are notably pop art icon Andy Warhol and Robert Rauschenberg, American painter."
Luxury at its Finest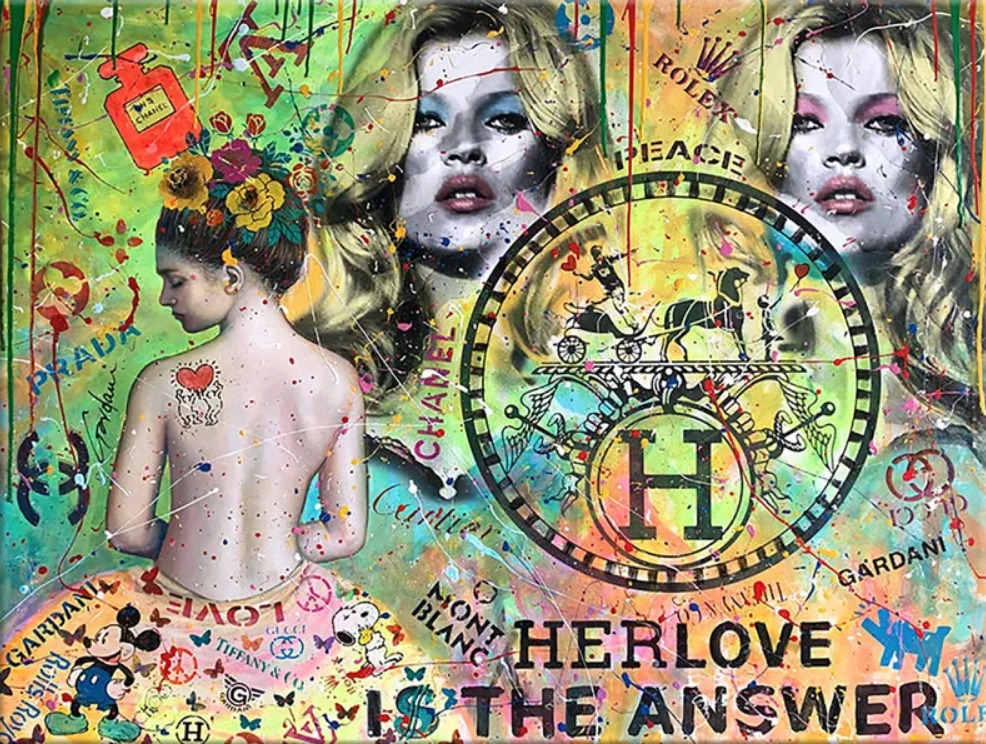 This pop art piece highlights logos and imagery from classic luxury brands like Hermes, Gucci, Chanel and Cartier. These are juxtaposed with the image of iconic fashion model Kate Moss for a beautiful and vibrant piece that includes the best of high fashion. This work is a great example of how pop art is often used as social commentary, and to poke fun at materialism and luxury brands. Artist Gardani hails from Ecuador and is well-known for his pop-urban art pieces among art collectors. 
Hermes is the Answer by Gardani Art
Breakfast at Tiffany's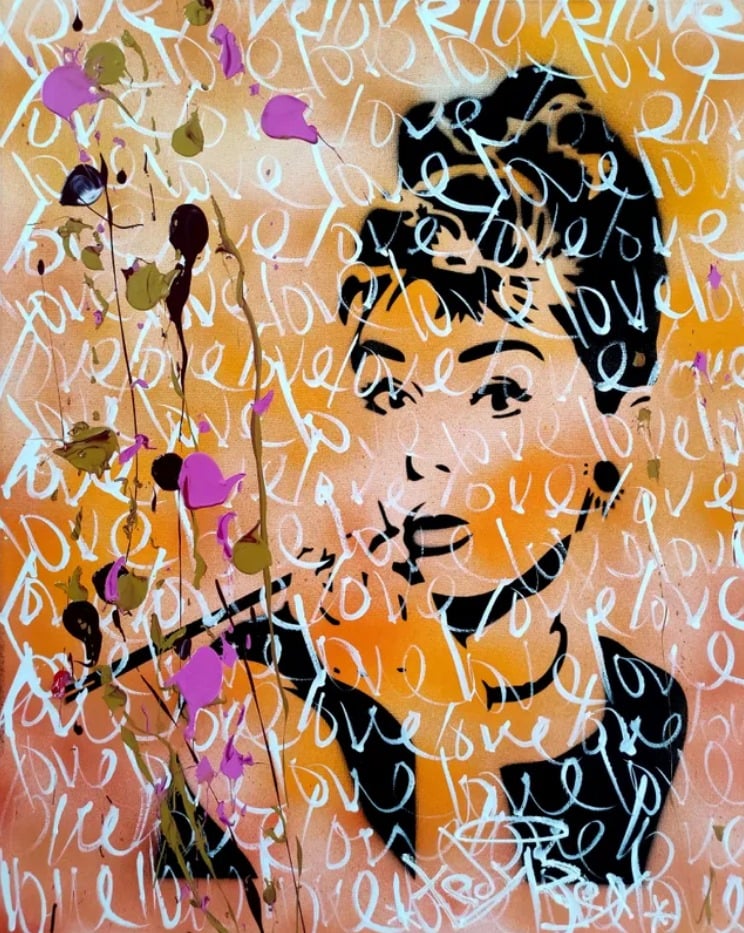 This work of art features actress Audrey Hepburn in a stenciled image from her famous movie 'Breakfast at Tiffany's. Her image is combined with bold orange hues and scrawled graffiti-like wording. Canadian artist Tadas Zaicikas shares his intention with this piece: "The painting is intended to invoke a feeling of comfort and peace, representing the power of prayer and power of love in the face of hardship and adversity. The bright orange hue of the background is meant to evoke feelings of warmth, while the black-and-white contrast of the stencilled figure brings a sense of strength and courage."
Prayer One_ page Audrey Hepburn by Tadas Zaicikas
Disney, Reimagined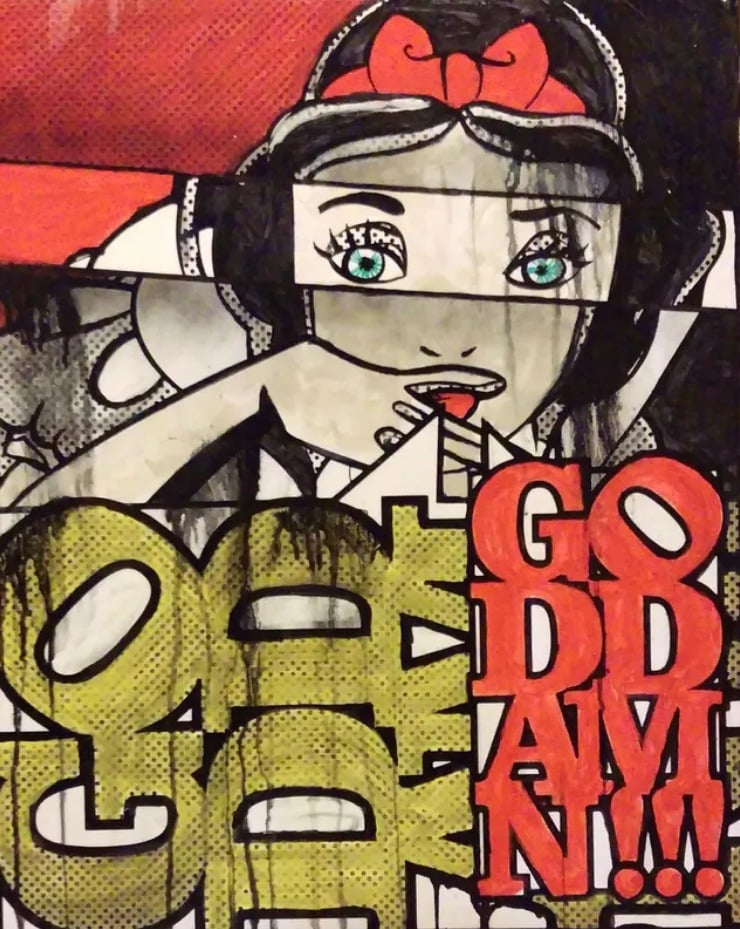 American artist ZF Que is known for his avant-garde art style that features contemporary icons, like this piece which he cites as being inspired by Snow White and the iconic 1994 movie Pulp Fiction. He shares his inspiration for his work and how his artistic process works: "My style is an evolution of my experience in commercial imagery and graffiti in my youth. I like to play with ideas and popular subjects in my paintings."
Dedicated to the Drummer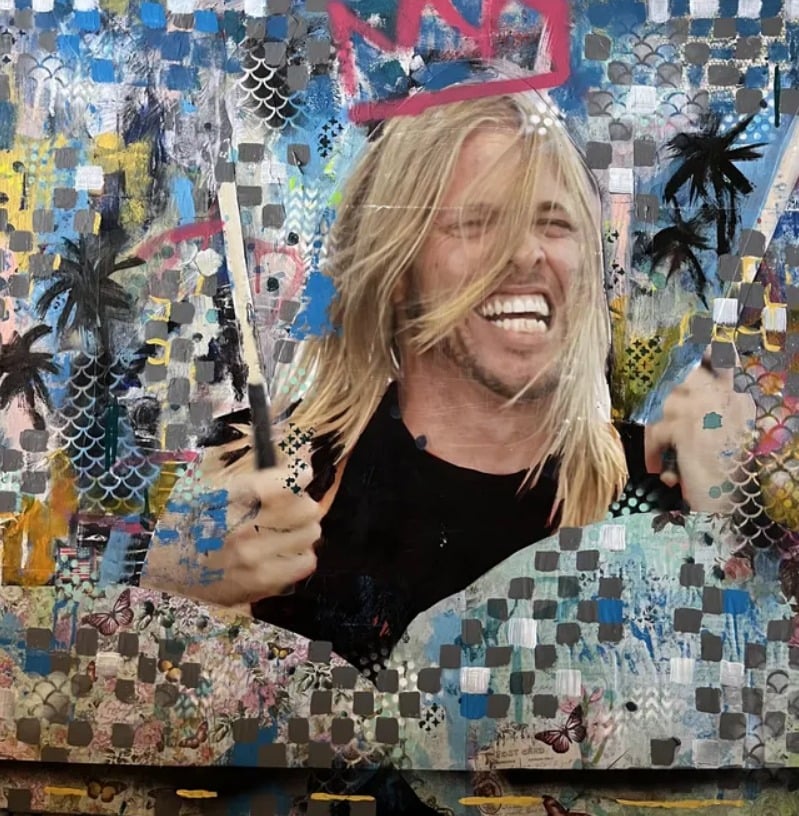 This work by American artist Sarah Boisvert features the late Taylor Hawkins, drummer for the famous band the Foo Fighters. This original canvas artwork combines a collage-style image with a graffiti inspired background. The artist shares how storytelling influences her work: "Since I was young I've always been creating one way or another. Before I was a painter I was a writer. I've brought my love of storytelling to my artwork. My works tell a story, if you listen closely."
Taylor Hawkins by Sarah Boisvert
Shop Modern Pop Art Pieces on Zatista
Pop art is a fun, vibrant style of art that embraces elements of pop culture and transforms them into works of art. These original canvas artworks make great statement pieces for people who love color! Zatista's online art gallery contains thousands of original pieces, including a wide range of pop art-inspired artwork. Browse our gallery of original pop art pieces for sale or explore the entire Zatista art collection.