You might not think of it, but art and sports often go together. Art was even a competitive category in the Olympic games from 1912 to 1952. The founder of the modern games, Baron Pierre de Coubertin, thought the arts should be an integral part of the Olympics. 
Medals were awarded for painting, sculpture, architecture, literature and music as long as they somehow represented sports.
Here's a round-up of modern-day sports-inspired original paintings from our own collection.    
Basketball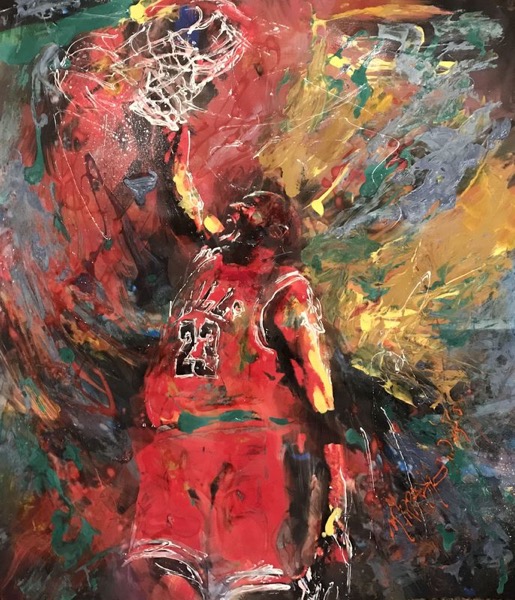 MJ the dunk by Murray Henderson
Basketball was first invented in 1891 by a gym teacher named James Naismith and has gone on to be one of the most popular sports in the world. 
This modern painting features Michael Jordan, arguably the NBA's greatest all-time player. He has won six titles with the Chicago Bulls, six-time NBA champion, six-time NBA Finals MVP and many more. Michael Jordan is now worth $1.7 billion USD.
A word from the artist
"My new style "EXACT ABSTRACT" is becoming quite popular and I feel it gives the owner a sense of excitement. I focus on great sports players and moments, try to show the athletes likeness with the rest of the canvas is just a jumbled up crazy abstract… but that's what happens to artists: you're always thinking about what would make an interesting painting. I think a way to describe it best. A sense of awkward grace."
Golf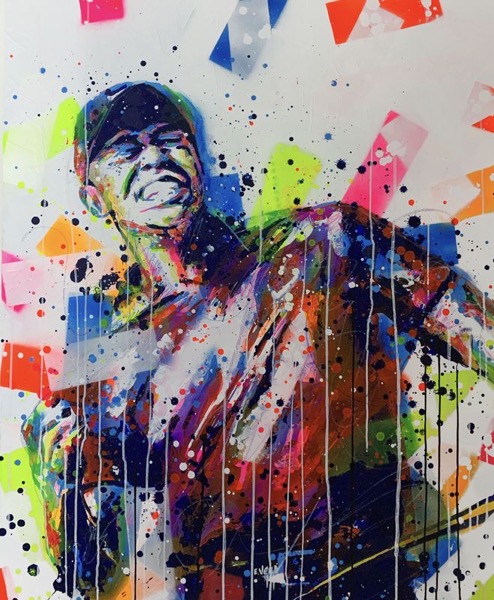 Tiger Woods by Esteban Vera
Golf is unlike your typical sport. Instead of a standard playing field, you have a large variation of terrain to play on. The challenge comes from the rule of using the least number of strokes possible, or the lowest score on individual holes in a complete round. 
This original pop art painting features Tiger Woods, who is an iconic golfer with a record setting 82 PGA tour wins. Other victories include the five Masters Tournaments, 3 U.S. Open Championships, 4 PGA Championships, and 3 British Open Championships. Along with his second Masters victory in 2001, Tiger Woods became the first golfer ever to have all four professional major championships simultaneously.
A word from the artist 
"My main interest is to promote positive thoughts of alternate situations, through colorful characters and shapes embodied in my works of art. My style is distinguished by the presence of everyday situations, I use bright colors, and disorder in my works is a fundamental part of associating myself with that Pop / Contemporary trend that lacks me."
Polo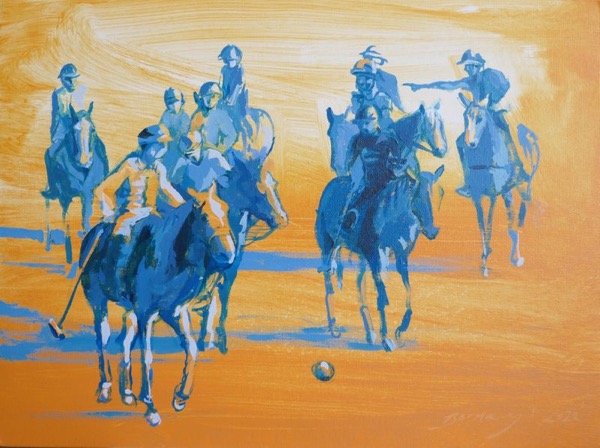 Learning the Line of the Ball by Amy Bernays
Polo is arguably the oldest team sport ever played but it's difficult to find its exact origins. It's presumed to be first played by nomadic warriors two thousand years ago but the first recorded game was in 600 BC.
While polo is relevant in over 50 countries, it's often been associated with high and middle class people because of the expense of owning one or several horses. In fact it is known as "the sport of kings" because it has mainly been played by kings, princes and noblemen. This has given polo a prestigious reputation. 
A word from the artist 
"I want paint to be paint. I want to see the blobs and swirls of how the image is manufactured. I love it when that daub magically becomes two things, a piece of paint on a canvas and the calming gesture of an animal trainer moving a camel to the left, or the nervous glint on the girl's face as she both leans in to her lover and pulls away."
Speed Skating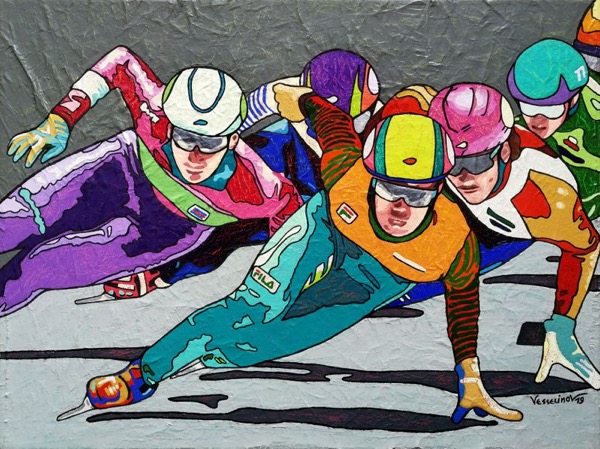 Winter Games The Great Finale by Vlado Vesselinov
This oil painting depicts the winter sport of speed skating. Speed skating is a form of ice racing that may have started as early as the 13th century in the Netherlands. Unlike hockey or figure skates, modern speed skates have longer, thinner blades and are supposed to be completely straight when on the ice. 
A speed skater can reach speeds of up to 50 km/h and requires a lot of muscle control and stamina to win.
A word from the artist
"The work is inspired by the Winter Olympics. Especially skating. The road to the grand final, the pre-race tensions and the whole explosion of passion over the race and of course the enormous joy of winning. There is so much emotion, beauty and movement in this sport that are a joy to the viewer's eye."
Football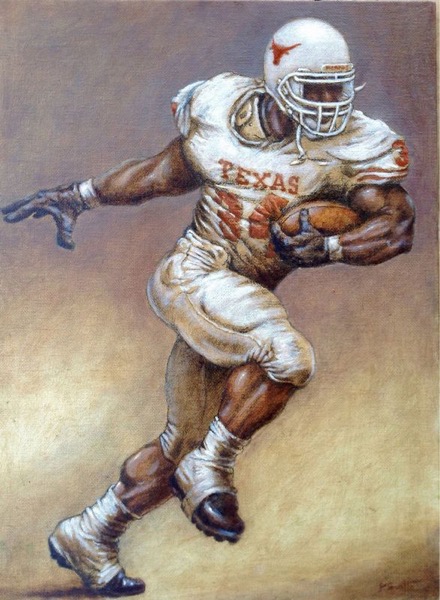 Ricky Williams by Steve Knotts
The National Football League (NFL) is the most popular American professional football league backed by the greatest average attendance of any professional sports league in the world. It is also the most valuable with yearly revenues of almost $15 billion USD. Over 70,000 college athletes and almost 1.1 million high school athletes participated in the sport each year as of 2012. 
In this realism painting, we feature the NFL star Ricky Williams. His accomplishments include the Walter Camp Award, the Maxwell Award, the Associated Press College Football Player of the Year,the Sporting News College Football Player of the Year, the Best College Football Player ESPY Award and many more. Williams also won the 64th Heisman Trophy, joining Earl Campbell as the second Texas Longhorn to do so.
A word from the artist
"Living in Texas and California over the years, I am constantly influenced by the surroundings where I live and travel. The more lonely, sometimes dirty, neglected area's I see seem to attract me to see the beauty of the history that created them. Painting creations from my sketchbook is cool, seeing them come to life, no matter how odd."
Is sporty art striking your fancy? There's more where that came from. Browse oil paintings, acrylic works, photographs and more created by emerging and established talent in our curated gallery and find the next piece for your collection.