Venice Gondolas by Behshad Arjomandi
Travel gives us the chance to experience the natural beauties of the world and discover new cultures. The next best thing? Taking a tour of the world through incredible works of art!
Join us for a tour of the world through art from the comfort of your own home.
Explore the City of Lights at Sunset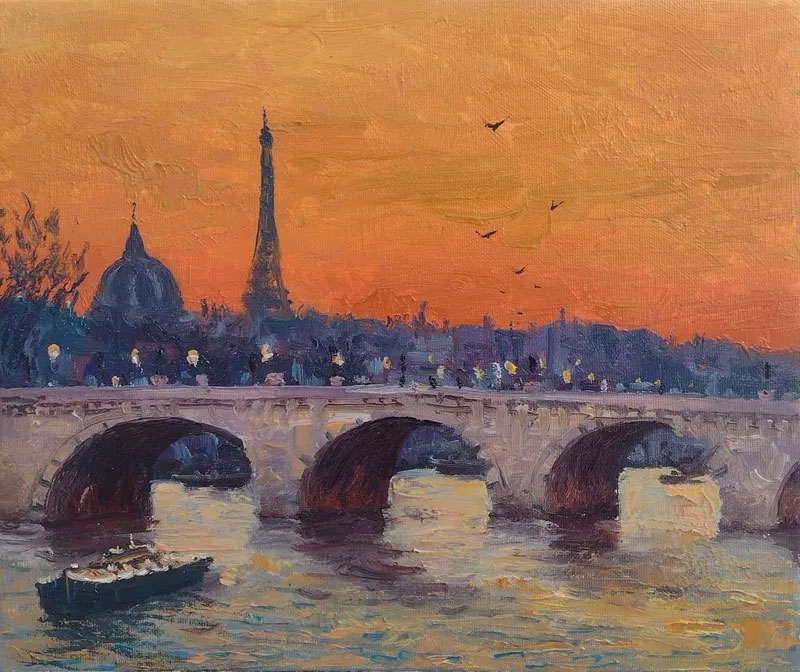 Paris, Pont Neuf And River Seine at sunset, France by Roberto Ponte
Discover the beautiful city of Paris and experience the classic architecture of Pont Neuf. While "Neuf" means new in French, Pont Neuf is actually the oldest existing bridge in France! 
London-based artist Roberto Ponte loves nature, sea, and countryside and explores this in his art.
A word from the artist
"What I am trying to convey is a feeling. When I am painting, I am transported to a place of peace. I hope that through the use of color and lines, I can express this."
Make Your Way down the Coast to Portofino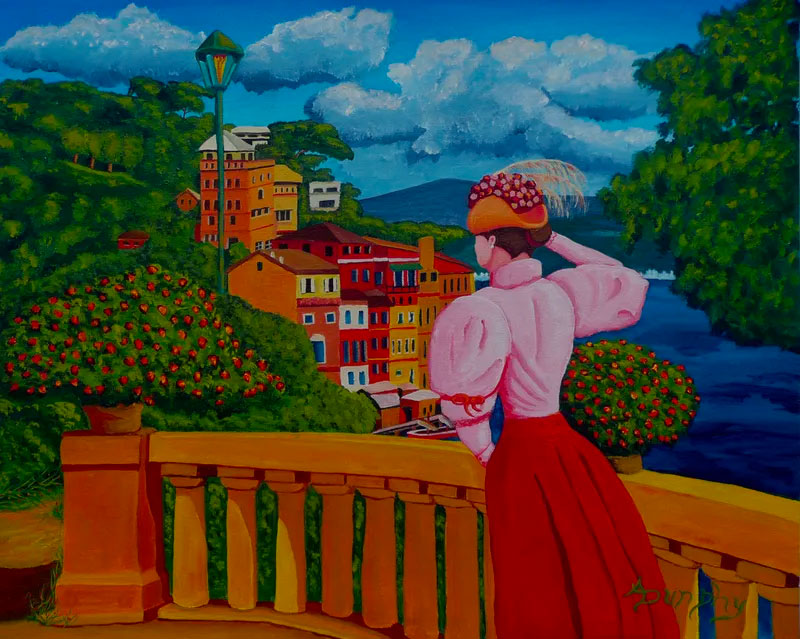 Portofino Lady by Anthony Dunphy
Known for its picturesque harbor, Portofino is the most charming Italian fishing village and holiday destination. 
Japan-based artist Anthony Dunphy's works are filled with vibrant colors and reflect joy.
A word from the artist
"I love Italy! The buildings that crowd the sea in their beautiful array of colors are eye catching for me and I have to paint them. A beautiful, young lady in Edwardian clothing stands on a balcony overlooking the colorful town of Portofino on the Ligurian coast of Italy."
Admire the Toronto Skyline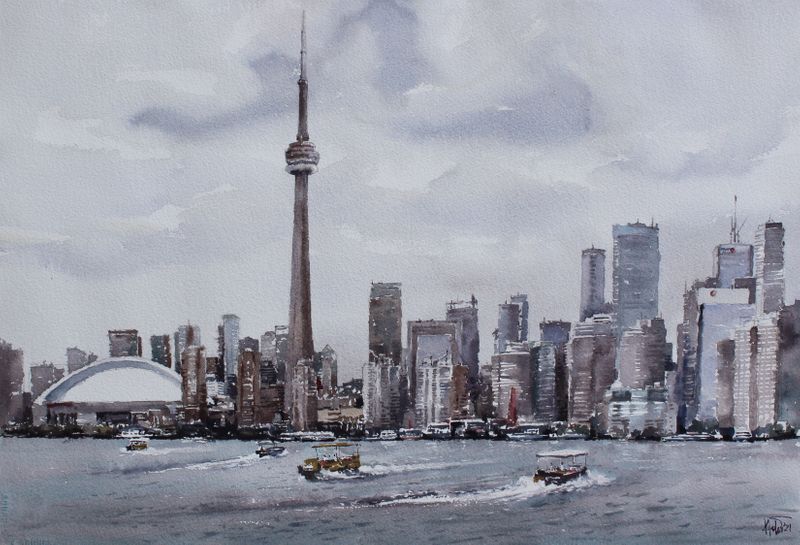 Toronto, Canada is known for the CN tower skyline. As Canada's largest city, it's a dynamic metropolis with many greenspaces, skyscrapers and plenty of entertainment and culture.
Ontario-based Canadian artist Helal Uddin has been painting since 1982, and his work explores various subjects such as landscapes, portraits and figures.
Beat the Heat in Spain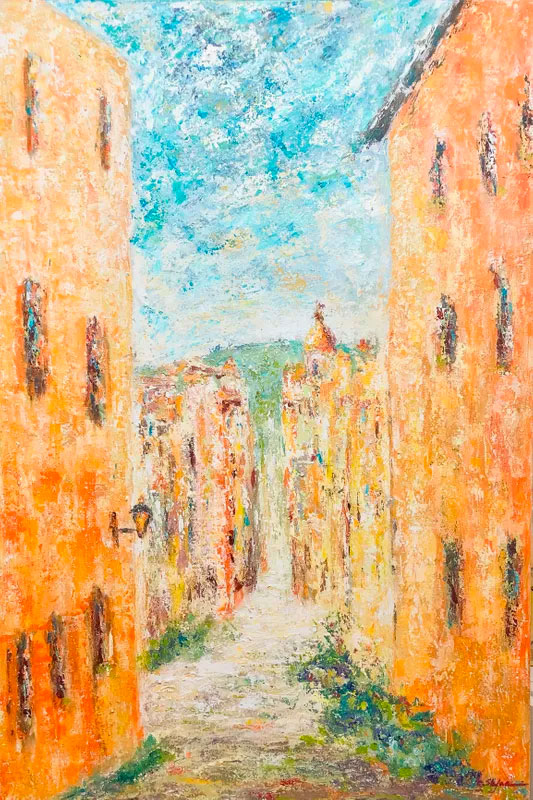 Village at Siesta Time – Montblanc, Spain by Cristina Stefan
Siesta time is the Spanish lunch tradition of taking a long lunch break. Many go home and have a short nap after their meal.
Canadian artist Cristina Sterfan's work is characterized by an intense color palette and varied subjects.
A word from the artist
"This artwork is inspired by the Montblanc village located in Catalonia, Spain at nap time. The streets are deserted, the heat is beating down, the village is enveloped in the warm sunlight of the afternoon and in total silence."
Visit the Busy City of London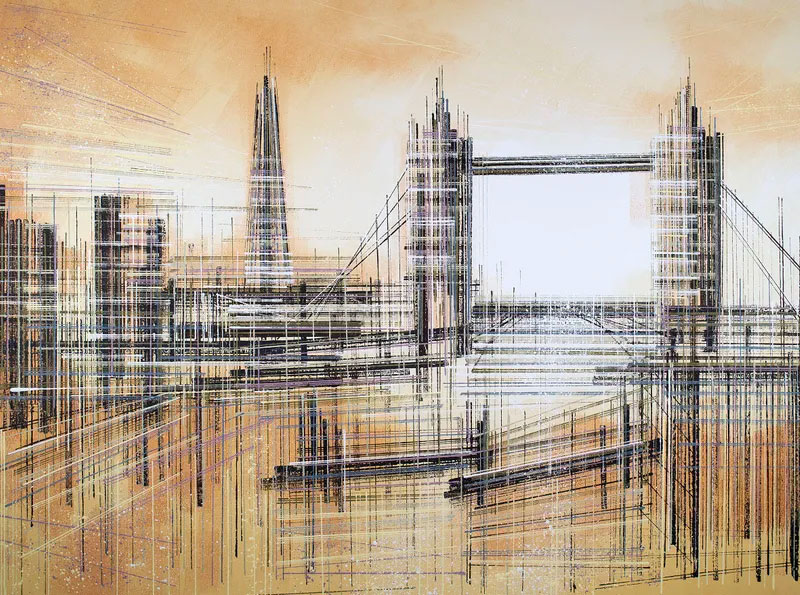 London is known for its architectural cityscapes. With many landscapes and incredible buildings, the skyline is often instantly recognizable, as with this abstracted piece!
UK artist Mark Todd's primary inspiration comes from natural structures, textures and composition.
A word from the artist
"I take my primary inspiration from natural structures, textures and composition, and have a love for the application of vivacious color, dramatic and contrasting light effects, and dynamic mark-making to create aesthetically captivating surfaces."
A world of art
Looking for art for your home, or wanting to build your collection of original art? Discover art from top emerging and established artists around the world. Explore the curated collection.