Art is a source of joy and inspiration, and many studies have shown how it can improve our mental well being. (Yes, the joyful power of art is science-backed!) Since the mid-20th century, art therapy has been used to aid those dealing with certain mental health conditions, learning disabilities, or major life stressors. Art has a true power to heal. But did you know that you can get similar positive effects from just looking at art? You don't have to create art to reap the benefits. Sometimes, simply appreciating an artwork by an artist you enjoy is enough to lift the spirits and boost your mood!
Art is good for your brain
Studies have shown that looking at art decreases cortisol (the stress hormone) in our brains and encourages our brains to release dopamine and endorphins (the feel-good hormones). In another study, brain scans revealed that looking at works of art triggered a surge of dopamine in the same part of the brain that registers romantic love. Viewing art can literally give you the same pleasure as the feeling of falling in love!
Art encourages kindness
In one study of over 10,000 students who had visited an art museum, they found that those who looked at art showed improvements in critical thinking. They also expressed greater empathy and tolerance towards others.
Art to Boost Your Mood
Looking for a little pick-me-up? Look no further than the power of original art. We've rounded up some paintings that are uplifting and joyful. Enjoy!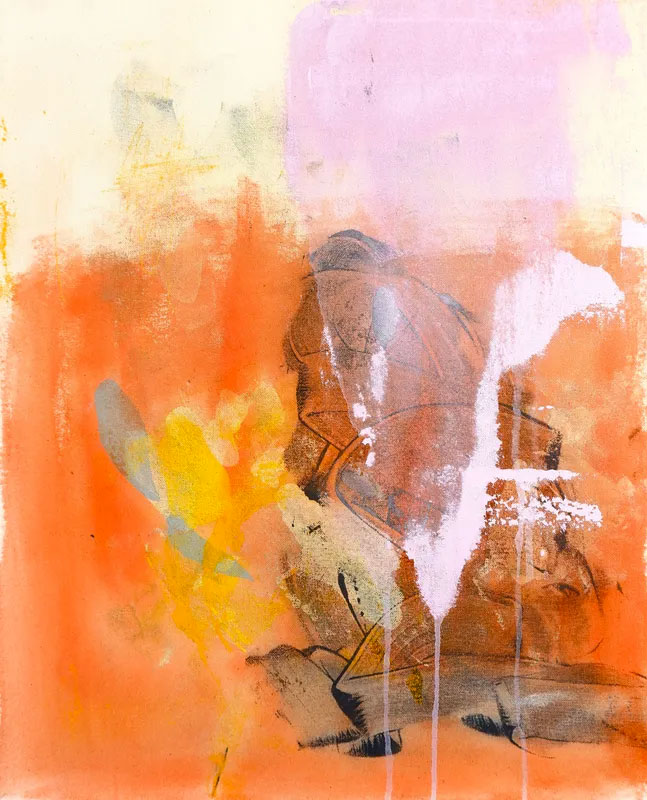 Make Me Happy
by Melissa McGill
Painting, Acrylic on Canvas
20x16in
A word from the artist:
Translucent orange wash over indigo monotyped pattern on raw canvas. "I'm a kind of paranoid in reverse. I suspect people of plotting to make me happy." J.D. Salinger, Raise The Roof Beam Carpenters and Seymour An Introduction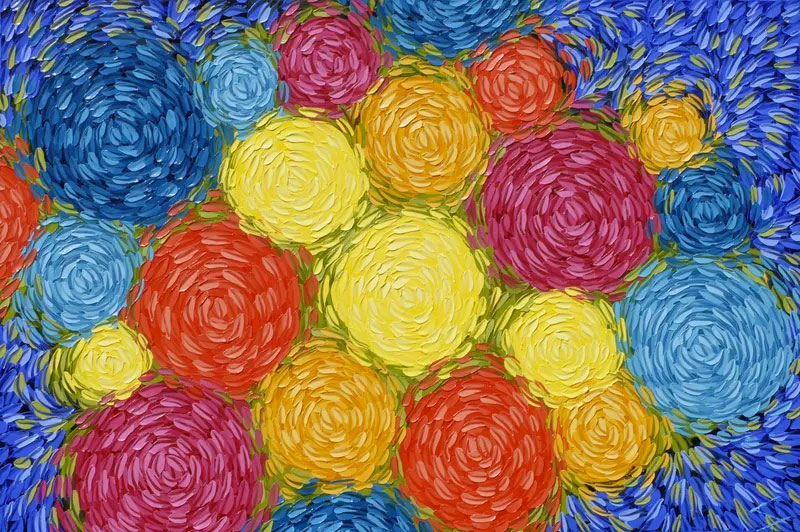 Painting, Oil on Canvas
48x72in
A word from the artist:
Because we need more happy. Thick, vibrant, oils on canvas influenced by the color, movement and texture found in the natural world around us.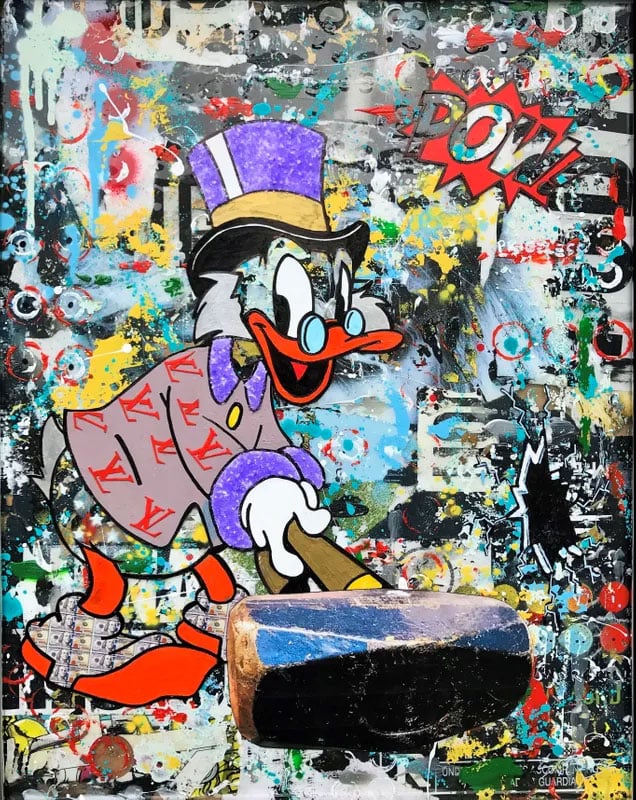 Dy-no-mite – Wynwood Series
by Greg Beebe
Mixed Media
11x14in
A word from the artist:
In 1790, with the invention of lithography, we began using paper based outdoor advertising posters. These posters not only communicated products and services but also community events and agendas. […] Often times these posters remain in place for years with walls accumulating poster over poster and while the bottom layers rip, decay and rot, the top layers shine for all to see. The walls offer a story, a stand-alone piece of artwork, a time capsule and a tangible look into our past and our present.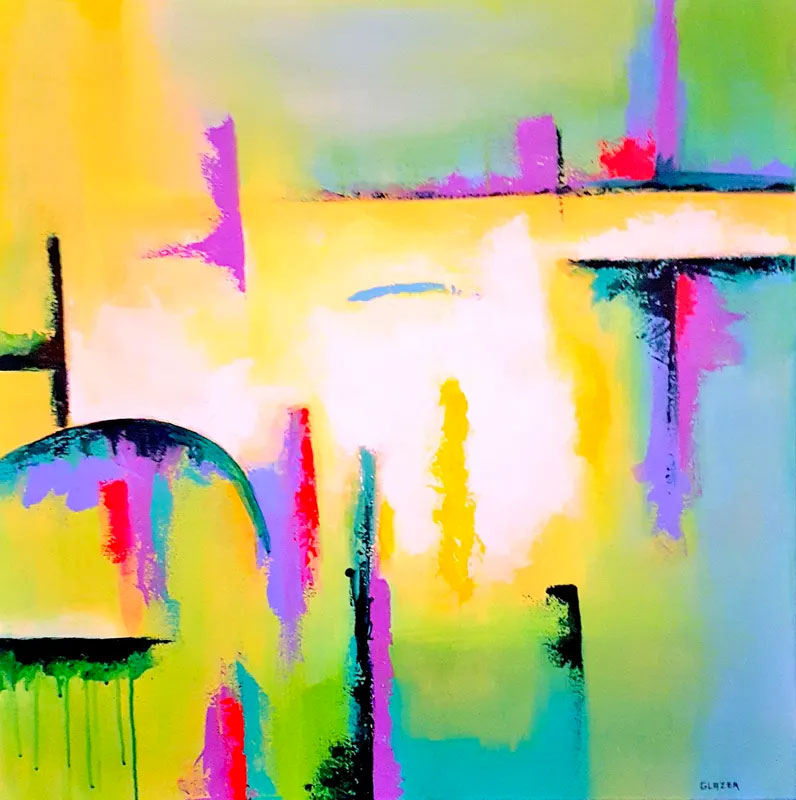 Painting, Acrylic on Canvas
36x36in
A word from the artist:
'Sunscape' (36×36″) is a very happy and bright painting with splashes of light greens, aqua, lavender, and a little bit of red. It is 1.5″ in depth, and the painting theme wraps around the sides of the painting. This painting, grouped with the paintings 'Dimensions' (36×36″) and 'Crossings II' (24×24″), looks outstanding on a wall with color, especially a medium or dark blue.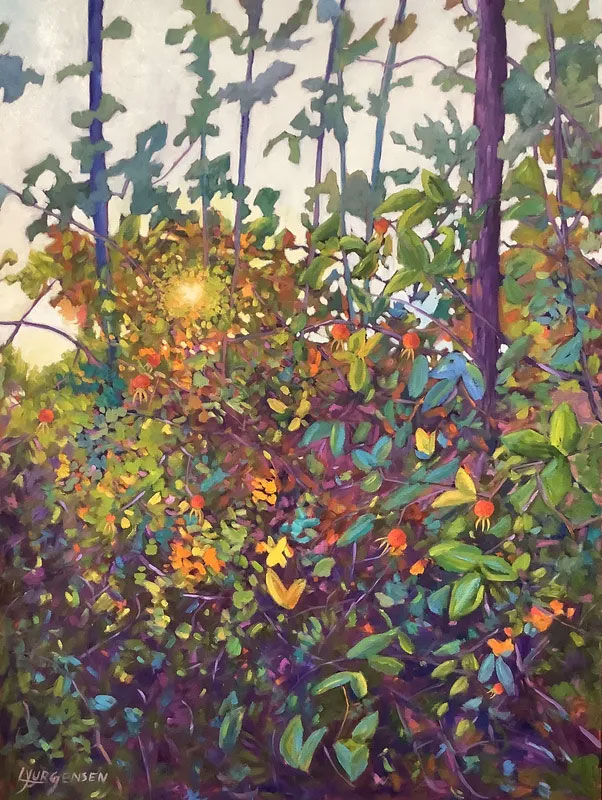 Rose Hips and Sunshine
by Linda Yurgensen
Painting, Oil on Canvas
40x30in
A word from the artist:
"This piece was inspired by an early morning walk near a beach on Vancouver Island in early fall. The sun was low in the sky but illuminated the rose hips that I saw on this trail.The scene was magical and this painting is the result of my vision."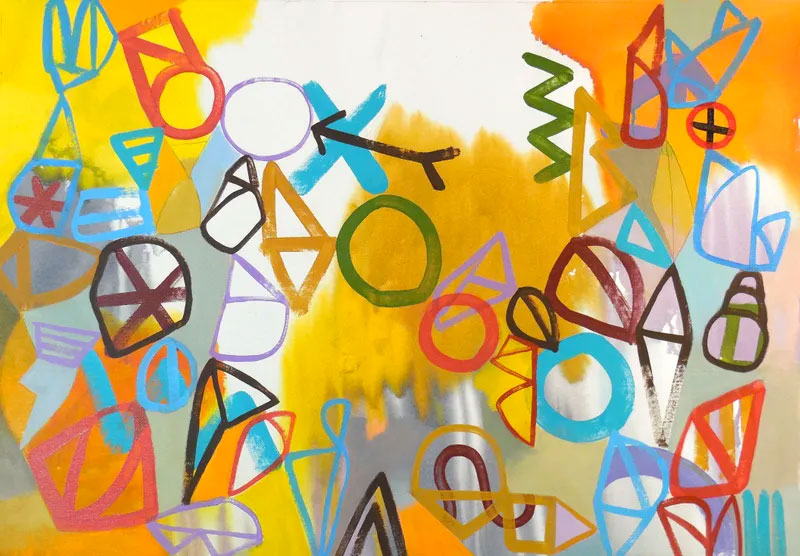 Painting, Acrylic on Canvas
27x39in
A word from the artist:
"A colorful array of signs and symbols on a loose wash background of greys, ochres and yellows. To me this painting has a festive feel and reminds me of the Caribbean." 
—
Searching for art to lift your spirits? Browse our curated collection of one-of-a-kind art from emerging and established artists around the globe!