As luck would have it, I happened to be in London visiting my sister during the Frieze and the Zoo Art Fair this year. If you haven't been to an art fair, they are an amazing way to see a large number of incredible artists/galleries and art all in one go, I highly recommend it. Whether you are there to buy or browse, everyone is welcome. There are fairs all over the country and the world, a couple of my favorites stateside are the Affordable Art Fair (AAF) in New York and Art Basel in Miami.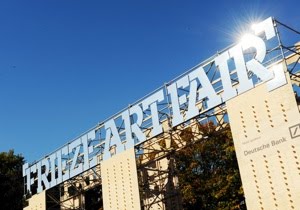 Here are some highlights from the Frieze Art Fair:
These were a few of Maya Lin's landscape series, "Altered Atlas" and "Altered Phonebook". Maya Lin is internationally recognized for her Vietnam Veterans Memorial in Washington, DC though she has produced a large body of diverse work beyond that. I loved these because she makes you smile in your mind. She has created an alternate sense of topographical dimension out of a 3-dimensional object (the book) made up of 2-dimensional pages, depicting a 3-dimensional landscape. And on top of that, it's gorgeous to look at. Amazing!

Pietro Ruffo is an artist from Rome. This piece was a very large 3 dimensional work using cut paper with watercolor printed with maps and steel nails.
Photos: thewomensroom

Peter Doig is the artist for the image on the left (Green trees), unfortunately I didn't get the name of the artist for the mouse and sculpture, so if anyone knows who that is, please let me know!


The Zoo Art Fair is in the East End, a vibrant cultural area of London. Bringing together about 50 arts organizations and artists, it was on a smaller scale than Frieze. Here are a couple of fascinating pieces I saw: