Sometimes I think the most interesting and expressive ways to display art are created by taking a chance and doing something unexpected. If you are somewhat creative, why not try using the way you display art on your walls as another way to change the way people interact with it?
This is such a great way to display many photographs and still have a clean uncluttered feel.
Photo from Martha Stewart
I love how the television blends in as another piece of art and how randomly the art is hung on the wall.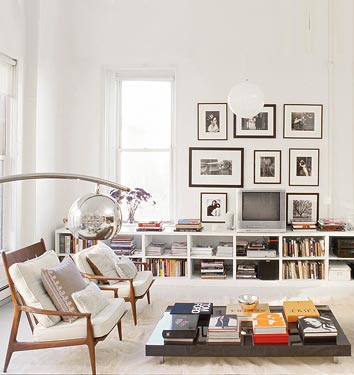 This one is a great example of how to tie accessories in with the art itself. The vase and flowers echo the colors and fiery bits of red in the photography. Asymmetrical and lots of white space.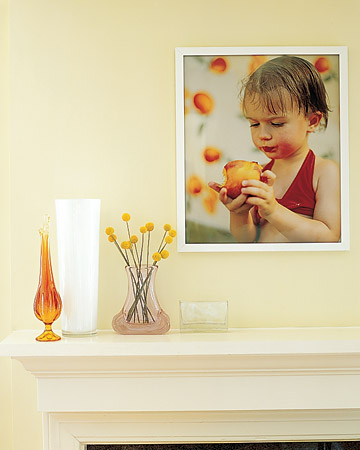 This was a wall at the Paul Smith store in London (left from apartmenttherapy.com) and San Francisco (Right, shot by me). It fills every bit of space, using many different types of frames, art, styles, colors and dimensions. It would be a great way to combine a bunch of mismatched things on one wall in a home as a focal point. Just one wall though I would think, a whole house like this might be overwhelming!
Break some rules, hang things off-center, in a space too small, too crowded and mismatched. If there is something about the collection that relates to each other somehow such as a frame color, or the medium (ie: all b/w photos) it can be the thing that ties it all in together. Or perhaps that thing is the fact that none of them have anything to do with each other at all! The point is to have fun, be creative and play with it. It is art after all.