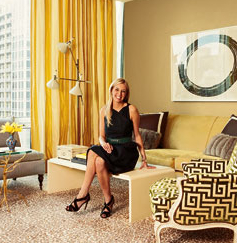 Principal Designer for Nate Berkus Associates, Sasha Adler began her career in fashion. But later in life, with a background in architecture and art history, Adler developed a significant thirst for all things design, including interiors."…Good design marries so many things – emotions, passions, functionality. It's never one note. It can't be. The home has to encapsulate all that we are and where we want to go in our lives. When you look at it that way, you see it's not frivolous. It's important because it's where we start and finish each and every day," says Adler.
Adler, who is a self-taught designer reflects, "Working for Nate, who's also self-taught, you learn your biggest asset as a designer is your instinct. What do you see in the world, today and historically, that you love? You have to go with what your gut says, even if you think that item might be a departure from your usual tastes," she explains. "That approach frees you to take risks and know it will all come together so long as you love each item in the room."
Z: What's on the top of your holiday wish list this year?
SA: Vintage jewelry always tops my list. I've had my eye on this crystal necklace from 1stDibs for some time. When this is published I'm going to send it to my husband as a little hint!
Z: What's your favorite holiday indulgence or "guilty pleasure"?
SA: My husband makes incredibly decadent, homemade, banana-chocolate-chip pancakes on New Year's Day. When I say I look forward to them all year, I'm not kidding. They're just that good, and they definitely get the year off to a sweet start.
Z: What are some things you like to do to your home or apartment to make it feel like the holidays?
SA: We love to entertain for our friends and family all year, but especially during the holidays. I don't have specific holiday decorations. To me, the holiday season presents a phenomenal opportunity to fill the house with fresh flowers, new candles and rearrange my current accessories to make them feel new again.
Z: Are you going anywhere special this holiday season? If so, where?
SA: For the past year we've been renovating a new home. It's set to be completed in December. So, this holiday is really a homecoming for us in every sense of the word.