LAURA KIRAR
Founder & Creative Director, TRU Design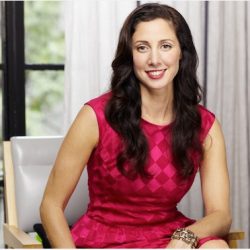 Founder & Creative Director, TRU DesignLaura is a designer with the soul of an artist. Under her direction, her TRU Design teams in New York and Miami work together to create elegant, innovative interiors and product for the home with a timeless sensibility. Laura has shaped the design of an array of interesting projects—from high-end residences to award-winning commercial interiors of restaurants, showrooms and hotels.A testament to Laura's unique design voice, she holds concurrent product licenses with all four of the Kohler Interiors Group companies: ANN SACKS®, Baker® furniture, Kallista® plumbing company and McGuire® Furniture Company. Her collections offer a full range of home products from tile and bath fixtures to seating, lighting and accessories. She has also collaborated with Boyd Lighting, Carnegie Fabrics, David Edward Company, Dennis Miller Associates, Tuohy Contract Furniture, Tufenkian Carpets and most recently Arteriors Home which launched in the spring of 2010.
Z: What's on the top of your holiday wish list this year?
LK: I want to streamline my life this year so my plan is to give more than I get. I'm asking for donations to my favorite charitable organizations (below) in lieu of gifts from family and friends.
Tibetan Home of Hope
Alpha Workshops
ASPCA
Z: What's your favorite holiday indulgence or "guilty pleasure"?
LK: My favorite family tradition is wearing ridiculous holiday hats at Christmas dinner. My family started this tradition in the early 90s and now each year we look forward to wearing a new hat, looking silly and laughing together at the holiday table.
Z: What are some things you like to do to your home or apartment to make it feel like the holidays?
LK: My favorite holiday tradition is having pine and fresh lilies in the house. When it's cold and gray, it's fantastic to have something colorful and alive around! I love to place an arranged wreath of flowers and pine on my front door. It's a beautiful daily reminder of the season and a fragrant welcome home after a long day.