JASON OLIVER NIXON
Co-Founder, Madcap Cottage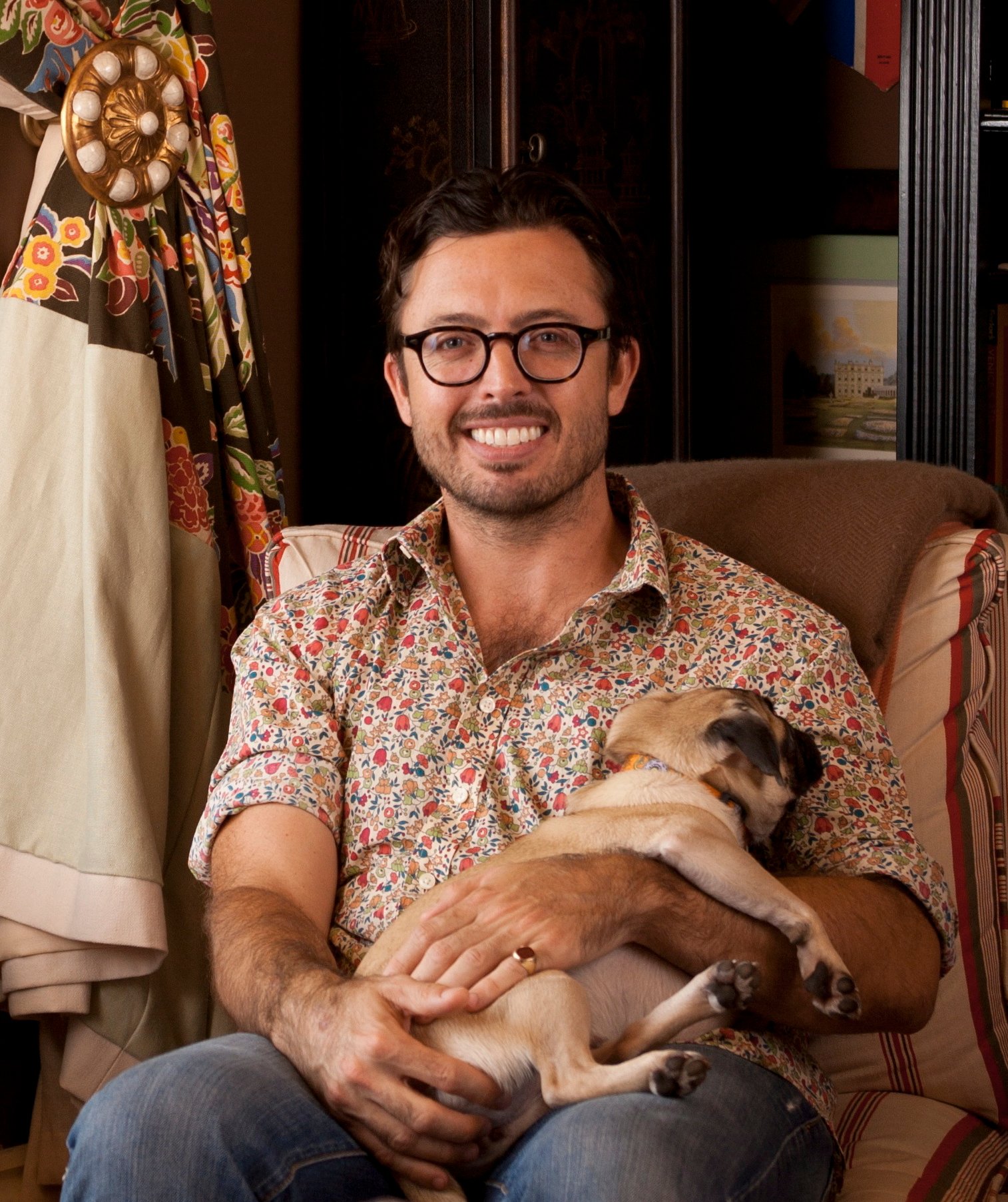 The former Editor in Chief and Editorial Director of Gotham, Hamptons, Los Angeles Confi- dential, and Aspen Peak maga- zines, Jason Oliver Nixon has always been excited by the worlds of design, luxury, and glamour. When he was a six- year-old boy growing up in Tampa, Florida, he informed his mother that he would one day own the Four Seasons restau- rant in New York or perhaps marry his heroine, Eloise, and help rule the roost at The Plaza hotel.
Fast forward several years and after working for such publications Condé Nast Traveler magazine and Fodor's Travel Guides and serving as a producer at E! Entertainmentand the Food Network, Nixon teamed up with partner John Loecke to focus on yet another of his passions, interior design.
Says Nixon, "I started as an intern at House & Garden magazine just out of college and worked my way up… But I always knew that I also wanted to run my own interior design firm. And after ten amazing in publishing, I was finally able to hang up my own shingle."
When co-creating a John Loecke Inc. interior, Nixon is all about mixing the highbrow and the low. "I love nothing more than pairing a wonderful flea market find or a lamp from IKEA that I tweak with a hand-painted wallpaper from Zuber," says Nixon. "Expensive does not necessarily equate good taste. Plus, I am all about having fun and never taking anything too seriously."
Always on the prowl for the latest and greatest finds, Delta Sky Magazine's Global Lifestyle Editor Jason Oliver Nixon is a style authority, foodie, world traveler, and self-professed wallpaper addict. Co-owner of interior design firm John Loecke Inc., Jason's keen eye is caught by color, energy, passion, and verve. Check out his style in the SHO House: Weeds Lounge going live on September 7. Contributing writer Nancy Cost interviews this month's Guest Curator, Jason Oliver Nixon.
How did you develop such a keen sense of style?
I am lucky enough to have super-cool parents who exposed me to everything, from art-house films to amazing, far-flung restaurants and gobs of travel. We would have Robert Rauschenberg come to dinner, we met Eudora Welty, we'd spend summers at Oxford where my mom was getting her PhD, and we'd hang out with my grandfather who was in the Guinness Book of World Records as the "world's most traveled man in a wheelchair." We were odd ducks, and it was spectacular.
When did you first realize you had great taste?
Yikes, I can't own up to that yet. I often throw dinner parties where I serve Popeye'sfried chicken and Prosecco with Håagen-Dazs bars, and that sort of sums me up. Maximal impact, minimal cash.
With a history in publishing, what inspired you to start an interior design business?
I always knew that I also wanted to run my own interior design firm. And after ten amazing years in publishing, I was finally able to hang up my own shingle.
What is your interior design philosophy?
Our designs reflect a respect for tradition tempered with bold splashes of color and playful patterns. Our designs also demonstrate a passion for fun and vitality. Banish the beige and the boring! Saturate your world in color-rich whimsy and sophistication. Most importantly, have fun with your home. We love glamour and style and are able to bring that passion to the most contemporary of home as well as the ultra-traditional. Frankly, we are all about the "F" words: frisky, fabulous and fun to be around.
What role does artwork play in your interiors?
Artwork is key. There's no better way to accessorize your walls than with an ever-changing array of artwork.
What are your favorite art museums or galleries around the world?
I am obsessed with the Victoria & Albert, the Leighton House Museum, and Sir John Soane's Museum, all in London. Also, the Isabella Stewart Gardener Museum in Boston and The Getty in Los Angeles always send me over the moon.
What would our readers be most surprised to find out about your home?
Wallpaper covers nearly every ceiling in my home. And I collect tea towels.
As a style guru, what advice do you have for someone starting an art collection?
Have fun, take chances and buy what appeals to you. Be eclectic with your purchases and mix and match bold graphics with the soft and traditional. Dive in.
You have a dream job and you have experience in so many different areas of style. What frontier will you conquer next?
I want my own product line. I want to be the next Dorothy Draper with the marketing skills of Lady Gaga and Martha Stewart.
What inspires you in the worlds of art and design?
Music is key, I often pull inspiration from what I am currently listening to. I recently did up a couch based upon La Roux's "Bulletproof" video, and Bryan Ferry and Goldfrapp have influenced many a living room.
What was the first piece of artwork you purchased? Where is it now?
My first purchases were a Michele Oka Doner gilt sculpture shaped like thorns and a black-and-white Lee Friedlander photograph of roses. The Oka Doner piece and the Friedlander photograph are both in my bathroom. I love putting artwork in unexpected places. I even have art hanging in my closet.
Being the busy jet-setter that you are, how, when and where do you find the time to shop for artwork?
While on the road, I am constantly hitting flea markets, department stores, and bazaars. I always make the time to sniff out the local scene. For me, having a world view is uber-important to my design lexicon.
Which hotel that you have been to recently has fantastic art?
I love the Chambers in Minneapolis—a crazy mix of video installations and a bespoke soundtrack and an ever-changing display of photographs and paintings. Very clever. And I would never leave Blake's in London if my credit card could handle the expenditure.
What are your favorite cities for good food?
London. Mexico City. Antigua, Guatemala. Des Moines, Iowa.
What are your favorite restaurants?
Bern's Steak House in Tampa, Florida, the Mountain Brook Inn in Bovina, New York's Saturday-only dinners, and the Fat Duck in Bray, England.
Besides NYC, what is your favorite US city for culture? Why?
Chicago. I love the museums, the architecture, the glamour, the excitement. It's far cooler than New York.
What's your favorite design magazine?
The World of Interiors, hands down.
Does a Global Lifestyle Editor for Delta always fly First Class?
At least in my mind, if not always in reality. I don't really need first class, I'd rather have a rich experience and lots of adventure.
Anything exciting coming up that you want to tell our readers about?
I am off to India for a month in November, working on getting my Italian passport, designing an amazing home in New Orleans, and putting the finishing touches on the Weeds Lounge at the Showtime House opening in New York in early September. I wake up every day, and it's a fabulous adventure. I am very lucky.