ABBY LARSON
Editor/Founder, Style Me Pretty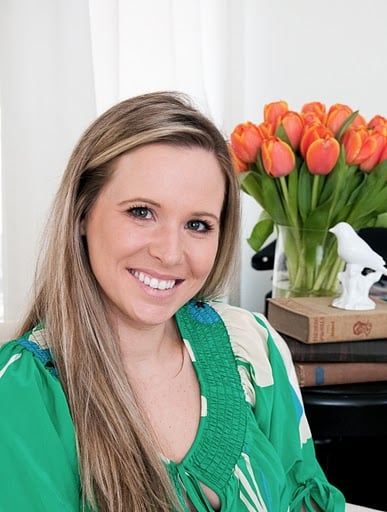 Editor/Founder, Style Me PrettyAbby Larson is Editor & Founder of Style Me Pretty, a style savvy wedding resource and blog devoted to the chichi and modern style-obsessed bride.After brief stints in PR and Investments, Abby jumped head first into the wedding industry launching a line of wedding invitations called Abby Jean. After three years of blood, sweat and tears, Abby sold her company to Fontaine Maury who could take the brand on to bigger and better things.
Next, as a way to stay connected to her industry, and continue to challenge herself creatively, Abby started Style Me Pretty. As a blogger, Abby is forever in search of inspiration whether it's her grandfather's sketches, her niece's paintings, the perfect pair of ballet flats, or a blush colored peony. Abby brings an intimacy and a sense of style to the wedding industry with a voice that is approachable, completely relatable and effortless. Brides of all styles and budgets feels like they are talking to their best friend and closest wedding confidant on Style Me Pretty.
Z: What's on the top of your holiday wish list this year?
AL: A set of really gorgeous, personalized stationery. Letterpress on 100% cotton paper with a pop of fabulous color. For me, that is the definition of luxury.
Z: What's your favorite holiday indulgence or "guilty pleasure"?
AL: Every year my mother-in-law puts little caramel chocolate Santas from her local gourmet grocer in my husband's stocking and I swipe them and hide them in my bedside table so I can keep them all to myself. It's terrible…but blissful!
Z: What are some things you like to do to your home or apartment to make it feel like the holidays?
AL: In our home we go all out. A big beautiful tree, fires in the fireplace every night, hot cocoa and George Winston's December playing in the background. Although now that we have a toddler, it will probably Alvin and the Chipmunks.
Z: Are you going anywhere special this holiday season? If so, where?
AL: This holiday season we're going to the best place on earth…nowhere! We're skipping the crowds, the chaos and the stress and staying home with our pajamas and hot chocolate. We couldn't be happier about it!