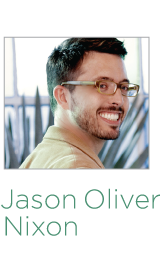 Wallspin Interview
Jason Oliver Nixon spoke with Nancy Cost of Zatista about artwork being key to design, and why he is all about the "F" words: frisky, fabulous and fun to be around.

About Jason

The former Editor in Chief and Editorial Director of Gotham, Hamptons, Los Angeles Confi- dential, and Aspen Peak maga- zines, Jason Oliver Nixon has always been excited by the worlds of design, luxury, and glamour. When he was a six- year-old boy growing up in Tampa, Florida, he informed his mother that he would one day own the Four Seasons restau- rant in New York or perhaps marry his heroine, Eloise, and help rule the roost at The Plaza hotel.
Fast forward several years and after working for such publications Condé Nast Traveler magazine and Fodor's Travel Guides and serving as a producer at E! Entertainment and the Food Network, Nixon teamed up with partner John Loecke to focus on yet another of his passions, interior design.
Says Nixon, "I started as an intern at House & Garden magazine just out of college and worked my way up... But I always knew that I also wanted to run my own interior design firm. And after ten amazing in publishing, I was finally able to hang up my own shingle."
When co-creating a John Loecke Inc. interior, Nixon is all about mixing the highbrow and the low. "I love nothing more than pairing a wonderful flea market find or a lamp from IKEA that I tweak with a hand-painted wallpaper from Zuber," says Nixon. "Expensive does not necessarily equate good taste. Plus, I am all about having fun and never taking anything too seriously."
Check Out Jason On: