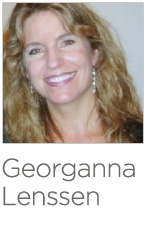 Wallspin Interview
Georganna spoke with Nancy Cost from Zatista to discuss her deep involvement with each subject and how, through familiarity, she hopes to release something of her subject's essence into her portraits.

About Georganna

Georganna is an artist who creates from a place of deep empathy. Through dedicated work with African wild dogs at the local zoo, feral cat colonies, and years corresponding with inmates, Georganna translates her personal experience with her subjects onto the canvas. "It's a highly compelling relationship. When I have a subject I'm really connected to I don't want to let go of it. I always want to come back to it and to see what else is there."
Lenssen's painterly style is rich with gestures and layering, lending an air of mystery to each canvas. Her organic approach means, in the process of creating a painting, figures may move across the canvas, disappear, or content may change into a completely different piece than what she started. This evolution is the artist's personal journey, and the final canvas is a highly encoded treasure map of her explorations.
As an art teacher, Lenssen's creative philosophy urges students to explore the visual language of paint and the sensuality of the medium. She encourages a "bold and experimental approach to paint where 'accidents' become a painter's best friend."