ART 101: Art in Depth
Styles:
ARTS AND CRAFTS (1861-1900)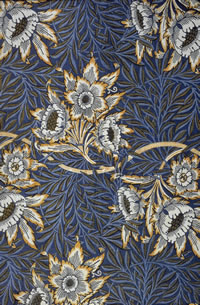 During a period of increasing mass production, artists involved with the arts and crafts movement aspired to restore the era of handmade crafts. Arts and crafts are any activities and hobbies that are related to creating things with one's own hands. Construction of this style of art typically includes materials such as ceramics, glass, textiles, metal and wood.
Arts and crafts can be broken down into many categories, but are not limited to: crafts involving textiles (such as knitting, calligraphy, and shoemaking); crafts involving wood, metal or clay (such as jewelry, pottery, and sculpture); crafts involving paper or canvas (such as bookbinding, origami, and scrap-booking); and crafts involving plants (such as basket weaving, floral design, and pressed floral craft).
Famous Arts & Crafts Artists:
William Morris (textiles)
Gustav Stickley (furniture)
Louis Comfort Tiffany
Frank Loyd Wright (architect)
Example of Arts & Crafts Art: Tulip and Willow, 1873 by William Morris