ART 101: Art in Depth
Styles:
ART NOUVEAU (1890-1914)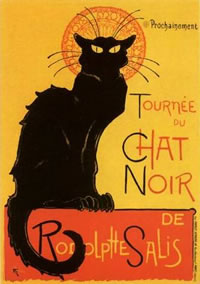 The broad style of Art nouveau, or "new art," movement portrayed a new way of thinking and redefined what people thought about modern society and new production methods. Artists embraced and worked on all forms of art and design—from architecture and furniture, to metalwork and textiles. Art nouveau brings these two categories of art together: fine art (painting and sculpture) and applied arts (ceramics, furniture, and other practical objects).
Art Nouveau can be distinguished by organic, especially floral and plant, themes in addition to flowing curvilinear forms, patterned surfaces, and abstract lines and shapes. Two-dimensional Art Nouveau pieces were painted, drawn, and printed in popular forms such as advertisements, posters, labels, magazines, and Japanese wood-block prints. Artists looked for natural forms and simplicity as a way to express the modern age and way of thought through liberating color and linear exploration.
Famous Art Nouveau Artists:
Aubrey Beardsley
Ivan Bilibin
Gustav Klimt
Théophile Alexandre Steinlen
Example of Art Noveau: Chat Noir, 1896 by Théophile Alexandre Steinlen